HBO Series 'The Young Pope' Starring Jude Law: What we know so far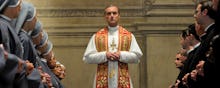 HBO is about to take a dip into the holy water with The Young Pope. The new limited series revolves around the very fictional story of Lenny Belardo — played by Jude Law — who becomes the first ever American Pope. 
The series comes from the mind of The Great Beauty director, Oscar winner Paolo Sorrentino. Over the course of just 10 episodes, the series will tell the story of the youngest pope ever elected, who doesn't seem to follow rules well, but does look amazing in big hats. 
Pius XIII has his own ideas: After he hires the nun who raised him — played by Diane Keaton — as his chief confidante, he isn't willing to totally conform to the rules and regulations of Pope life, rejecting the publicity of his new career and what is expected of him. 
The series is, of course, attracting a lot of attention. It already aired in Italy starting in October 2016 and was a smash hit with viewers. Critics seemed to enjoy it too, calling it "grotesque" but in the best way, as well as a "twisting character study" and the first good thing Jude Law has done in forever.
While Jude Law is being praised for his role, his character was not created to cause any potential controversy for the Catholic Church. That was not Sorrentino's intention. The show creator told the Hollywood Reporter in 2016 that they weren't trying to take a "provocative stance."
 "If [the Vatican is] patient enough to see it up to the end, they will understand that we simply tried to tackle with curiosity and with honesty, without taking a provocative stance, to investigate the contradictions and the difficulties and the fascinating aspects of priests and nuns, and one who's somewhat different from the others: the pope."
The show has already done so well before it's North American debut that a second season has been confirmed. 
The Young Pope premieres on HBO on Sunday, Jan. 15 at 9 p.m. Eastern.