Mark Hamill reminisces about working with Carrie Fisher on 'Star Wars'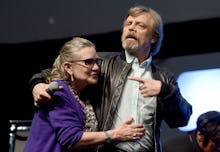 Last week, the world lost two legends of cinema: Carrie Fisher and her mother, Debbie Reynolds. Fisher, an accomplished novelist, screenwriter, activist and voice actress, though best known for her role as Princess Leia in the Star Wars franchise, passed away at the age of 60, just days after suffering a heart attack while on a flight from London to Los Angeles. 
Initially following her death, Fisher's Star Wars co-star, Mark Hamill, turned to Twitter with a message that said it all: "no words #Devastated." 
Now that some time has passed, Hamill, who portrayed Princess Leia's brother, Luke Skywalker, spoke to Entertainment Weekly as part of a feature to pay tribute to Fisher. The following are some of Hamill's words as told to Entertainment Weekly's Anthony Breznican:
Before Star Wars, the world was pre-programmed to accept a storybook damsel in distress who cowers as the men save her, but Carrie Fisher shattered that mold. She was so take-charge that she made Harrison Ford and me look like a couple of chumps. ...
Hamill closed out his tribute with a sentiment that many who met Fisher likely share. "She was something else. I met only one Carrie Fisher. I don't expect to meet another."
Since she first appeared as Princess Leia in Star Wars: Episode IV — A New Hope, Fisher has been a film icon like few others. She was a trailblazer for women in cinema, transcending the role of damsel in distress to, as Agents of S.H.I.E.L.D.'s Chloe Bennet stated on Twitter, someone who inspired "generations of young women to kick ass." She was an action hero, like few men or women who have followed.
You can, and should, read Hamill's entire tribute to Fisher on Entertainment Weekly here.