Caitlyn Jenner's highly-anticipated MAC collection is here — everything you need to know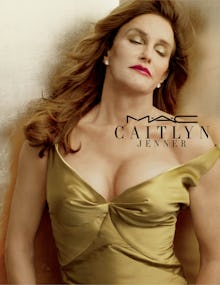 Back in February 2016, news broke that Caitlyn Jenner would follow in the footsteps of Ariana Grande and Taraji P. Henson by teaming with MAC Cosmetics on a makeup collection. For the Jenner family, makeup is, after all, a family affair.
In April, MAC released a single lipstick in collaboration with Jenner, dubbed Finally Free.
"I like a little color on my lips, not a lot during the day," Jenner said in an interview on the company's website. "And this rosy nude is the color I've gone to. To be honest, I want people to use it every day so they have to buy more. I want to raise a lot of money. It's very simple."
Now, eight months later, the full collection is here, available online and in-store beginning Jan. 5th.
"Caitlyn Jenner has fearlessly shared her transition with the world, and her new MAC collection continues that mission, proudly championing all ages, all races and all sexes," reads a release from the brand announcing the news. "Elegant, classic shades for lips, eyes and cheeks are beautifully suited for those who embrace life, in whatever form they choose."
The robust collection includes lipstick, lip pencil, cremesheen glass, eye shadow, eye kohl, lashes, mineralized skinfish and powder brush. There's even an exclusive online-only lipstick.
Check out the individual items up-close below:
Lipstick, $17
Lip pencil, $17.50
Cremesheen Glass, $21
Eye Shadow, $16
Eye Kohl, $17
Lashes, $17
Mineralized Skinfish, $33
Powder Blush, $29
Online-Exclusive Lipstick, $17
The entire collection can be purchase in-store and online at maccosmetics.com beginning Jan. 5th.