Virginia's proposed "trans bathroom bill" also requires schools to out trans students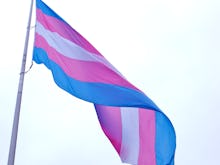 Meet House Bill 1612. Virginia lawmakers prefiled the "Physical Privacy Act" on Tuesday before the beginning of the legislative session on Jan. 11. 
Like North Carolina's controversial HB2, part of Virginia's proposed bill requires Virginians in government-owned facilities to use the restroom that matches their gender assigned at birth rather than their gender identity. 
But the bill also goes two steps further than HB2. It allows people who find transgender people in restrooms to take civil action against the state and sue for "physical and emotional pain and suffering," similar to a bill that died in committee in Kansas in June. Additionally, the bill has a provision that requires schools to out transgender students to their parents.
The bill reads: 
The principal of a public school attended by a child shall notify the child's parent, guardian, legal custodian, or other person having control or charge of a child within 24 hours of any request by a child to be recognized or treated as the opposite sex, to use a name or pronouns inconsistent with the child's sex, or to use a restroom or changing facility designated for the opposite sex.
Chase Strangio, staff attorney at the American Civil Liberties Union's LGBT and HIV project, said Virginia's new bill is a Frankenstein's monster, comprised of parts HB2, other anti-trans legislation introduced nationwide and even some bills that failed to pass Virginia's legislature in last year's session. 
He couldn't recall a bill that combined an anti-trans bathroom bill with a provision requiring student outing, though he has seen them separately. For instance, Texas just proposed its own bill to limit transgender people's access to bathrooms, and the state's attorney general also wants schools to out trans students. Strangio said that even if the bill does not pass, transgender Virginians will feel the effects of seeing lawmakers "demonize" them and try to remove them from public life. 
"The trans community internalizes the message that we are not welcome in any aspect of public life from schools to government buildings to universities," Strangio said. "That's the explicit message that these bills send." 
Students worried about the bill should remember that they have the federal law and the constitution on their side. In May, the Obama administration issued a guidance on federal statute Title IX that said schools must allow transgender students to use the restroom that matches their gender identity.
Virginia is already at the center of the first U.S. Supreme Court case on transgender rights. Gavin Grimm, a Virginia teenager, won a case against the Gloucester County school board in April after Grimm was denied usage of restroom facilities. Though Grimm won, he is still unable to use the facility, as the case will go before the Supreme Court this year. 
That Virginia Legislature would propose such an overreaching bill is baffling, given the objectively negative consequences North Carolina continues to face for its passage of HB2. Mic earlier reported that lawmakers in North Carolina chose to ignore losing millions of dollars, and Gov. Pat McCrory's failure to get re-elected, and kept the bill. In December, North Carolina lawmakers convened a special session to repeal HB2 but failed.
As with HB2 and other bills, Strangio said the ACLU has a "significant fight ahead," but that they will continue to fight.
"These laws are unconstitutional and violate federal law and are incredibly harmful to the trans people in the state and harmful to the economy of the state," he said. "It's shocking that lawmakers continue to introduce them."