'Pokémon Go' event dates: What holiday updates and bonuses to expect in 2017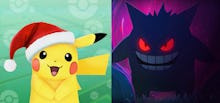 Wondering what Pokémon Go special events and holiday updates Niantic may have planned for 2017? Looking back at Pokémon Go event dates from 2016 can help give us a sense of what to expect this year.
Here's a quick rundown of all the festive Pokémon Go events that happened last year, and some speculation on what's coming next.
Pokémon Go event dates: Halloween 2016 update was sugary sweet
For Halloween 2016, Niantic showered candy on Pokémon Go players. Candy, of course, is what Pokémon Go players need to power up or evolve Pokémon. During the Halloween event held from Oct. 26, through Nov. 1 , players earned double the amount of candy for catching Pokémon, hatching them or trading them to Professor Willow.
Other Pokémon Go Halloween 2016 bonuses included increased spawn rates for the spooky Pokémon: Ghastly, Gengar, Hypno, Golbat, Drowzee, Haunter and Zubat. Buddy candy was earned at four times the normal rate, and the event also added color-coding to 2km, 5km, and 10km eggs.
Pokémon Go event dates: Christmas 2016 gifts made trainers jolly
For the Christmas 2016 holiday, Niantic gave Pikachu a Christmas hat that he gets to keep forever. Any Raichu evolved from a Christmas Pikachu will become a Christmas Raichu. In other words, Raichu also gets to keep the hat.
For New Year's, Niantic gave away free incubators at PokéStops. It even increased spawn rates for the three starter Pokémon in Pokémon Go, or Bulbasaur, Charmander and Squirtle, as well as of their evolved forms.
Pokémon Go event dates: What to expect in 2017
First, we expect to see repeats of Halloween and Christmas celebrations. However, there's one new holiday in 2017 that feels ripe for a Pokémon Go event: Easter.
Pokémon eggs factored heavily into another part of Niantic's Christmas 2016 surprise, including the introduction of baby Pokémon from Gen 2. It's difficult to imagine that Niantic won't tap into the egg theme for Easter of all holidays.
Easter takes place this year on April 16. So if Niantic is planning a special Pokémon Go event for that holiday we should know in a few months.
More Pokémon Go news, tips, tricks and updates
If you're setting your calendar by Pokémon Go, you may also want to check out Mic's other Pokémon Go tips and tricks. Here are guides on how to catch Gen 2 baby Pokémon, the 98 Gen 2 Pokémon that have yet to be added to the game, how to catch Pikachu and his adorable new Christmas hat, our analysis of post-update Chansey and Rhydon, everything you need to know about finding the long-awaited Pokémon Ditto, how to create new PokéStops, how to maximize your chances of catching Pokémon and how PokéStops distribute Pokémon eggs.