NAACP president Cornell William Brooks, protesters arrested for Jeff Sessions sit-in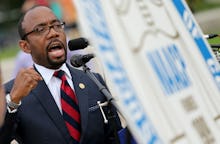 On Tuesday, six NAACP leaders held a sit-in in Sen. Jeff Sessions' Mobile, Alabama, office, vowing to remain in place either until the withdrawal of his nomination for United States attorney general, or until they were arrested. The latter came first: Police took NAACP president Cornell William Brooks and his fellow protesters into custody after an all-day occupation, the Associated Press reported. 
"We all are aware of the laws of trespass," Brooks says in a video of the arrest, broadcast on Facebook Live. "We are engaging in a voluntary act of civil disobedience. We tried to conduct ourselves in a peaceful and nonviolent manner." The entire encounter was polite: Brooks shook the officers' hands and thanked the office staff for their hospitality before he and the other demonstrators were handcuffed.
The protesters arrived at Sessions' office at approximately 11 a.m. local time and were arrested after they declined to vacate at 6 p.m., according to the AP. Each received a misdemeanor charge of criminal trespassing before being released on bond. 
President-elect Donald Trump's first Cabinet selection, Sessions is a controversial choice for attorney general. Before Sessions became a senator, he was an attorney — and a candidate for a federal district court in the 1980s, when President Ronald Reagan nominated him to become a judge. In 1986, the Senate blocked that appointment after a number of people with whom Sessions had worked shared stories of his racism. 
His colleagues recalled Sessions' use of racial slurs and jokes about the Ku Klux Klan. According to the Washington Post, Sessions suggested the only problem he had with the white supremacist hate group was their reported marijuana use. Sessions argued that his words had been taken out of context. But they square with other elements of his professional history, like his advocacy for segregation in education, which he maintained well into the 1990s. 
On Dec. 30, the Alabama NAACP announced a string of anti-Sessions demonstrations scheduled for Jan. 3. In a statement, Brooks alleged that the senator "has callously ignored the reality of voter suppression but zealously prosecuted innocent civil rights leaders on trumped-up charges of voter fraud," and "can't be trusted" to protect voting rights for all.
"As a matter of conscience and conviction, we can neither be mute nor mumble our opposition to Sen. Jefferson Beauregard Sessions becoming attorney general of the United States," Brooks said. 
In a statement to the AP, Sessions spokeswoman Sarah Isgur Flores defended what she said was the senator's track record of fairly enforcing the law. She added that a number of black people are excited to see him in Trump's cabinet.
"Many African-American leaders who've known him for decades attest to this and have welcomed his nomination to be the next attorney general," Flores said. "These false portrayals of Sen. Sessions will fail as tired, recycled, hyperbolic charges that have been thoroughly rebuked and discredited."
Senate hearings for Sessions' nomination are slated for Jan. 10 and 11.