Istanbul Nightclub Attack Updates: Attacker identified, Turkish official says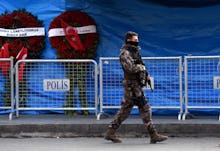 Turkish authorities said on Wednesday that they have identified the gunman who killed 39 people inside an Istanbul nightclub in the early morning hours of New Year's Day.
"The identity of the person responsible for the Istanbul attack has been established," Turkish foreign minister Mevlut Cavusoglu told state-run news agency Anadolu, according to the New York Times. 
The name and nationality of the gunman, who entered an upscale party at Reina nightclub in a Santa Claus suit before opening fire on revelers, have not yet been released by authorities.
So far, Turkish police have detained 20 suspects from four different locations in Turkey's Izmir province in connection to the attack. According to CNN, all of them are believed to be aligned with the Islamic State.
ISIS claimed responsibility in the immediate aftermath of the attack, reportedly saying that a "soldier of the caliphate" had committed the shooting as an act of revenge for Turkey's military aggression against the group in Syria.
Sunday morning's shooting prompted a response from Turkish President Recep Tayyip Erdogan, who said during an address in Ankara that the New Year's Day attack was designed to further divide a nation already roiling with tensions.
"I am saying one more time, in Turkey, no one's lifestyle is under systematic threat," Erdogan said, according to the New York Times. "We will never allow it. During our 14-year rule, we have never allowed it."
Turkey's geographical proximity to and involvement in the ongoing crisis in Syria has resulted in increased violence in the country in recent months. In a separate attack in Ankara in December, an off-duty Turkish policeman killed Russian ambassador Andrey Karlov, screaming, "Revenge for Syria and Aleppo." In June, a gun and bomb attack at Ataturk Airport in Istanbul killed at least 45 people, with the Islamic State believed to be behind the incident.