'NBA 2K17' Videos: Kyrie Irving's Christmas Day game-winner vs. Warriors recreated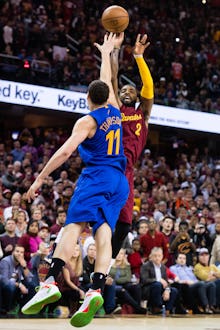 NBA 2K17 offers the sort of visuals that can cause non-gamers to mistake it for a real game. 
That quality is even more apparent when someone takes the time to recreate a memorable moment from real NBA history. With that in mind, let's take a look at a fan-made video that shows Kyrie Irving's recent game-winning shot against the Golden State Warriors.
NBA 2K17 Videos: The latest example
The Cleveland Cavaliers' Kyrie Irving has made himself the proverbial thorn in the sides of the Warriors since the 2015 NBA Finals. 
On Christmas Day, 2016, he poked Klay Thompson and co. again with a sick game-winning bucket. 
With the Cavs down 108-107, and with less than 10 seconds remaining on the clock, they didn't go to LeBron James, the game's best all-around player, for the final shot.
Instead, they gave the ball to Irving: a matchup nightmare for the Warriors and a certified assassin with the basketball in his hands. 
In case you missed it, here's the shot:
NBA 2K video editor extraordinaire Shady00018 added a recreation of the memorable shot to his growing portfolio of NBA-inspired work.
It was vicious in real life, and it's just as cold-blooded in virtual reality.
Take a look:
NBA 2K17 Videos: Sneakers and other little details
The biggest thing that stands out about Shady's work is his attention to detail. The Cavaliers and Warriors are both wearing their Christmas Day uniforms.
Irving is wearing the newest version of his signature Nike sneakers, and all of his and Thompson's respective teammates who were on the floor when the shot was made are captured in the video.
To add an extra touch of realism and immersion, Shady has also included a dramatized and edited version of the original call from ESPN/ABC play-by-play commentator Mike Breen.
NBA 2K17 Videos: Shady is no rookie
Shady's recreated some pivotal NBA moments in the past. Chicago Bulls fans might also be able to appreciate this dagger from their star Jimmy Butler. This video runs side-by-side with the real-life footage as a reference for accuracy.
Kudos goes to NBA 2K17 for creating a game with such lifelike visuals, and to Shady for harnessing it as a new medium for artistic expression.