Nintendo Switch Price and Pre-Order: How to make a reservation early and what it may cost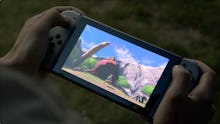 The Nintendo Switch release date is still a couple of months out, but we're getting details sooner than that. The gaming company's upcoming livestream presentation will offer up new information on Jan. 12 at 11 p.m. Eastern. That means the Nintendo Switch price, specs, pre-order information and more will soon be public knowledge.
We're still a week away from the big reveal, but that hasn't stopped some retailers from offering up their own early pre-order deals of the console, specifically the ability to reserve your Nintendo Switch. Not every gaming shop is offering early reservations of the console, though, and the stores that have aren't necessarily sharing correct information.
Nintendo Switch Pre-Order: How to reserve yours now
Nintendo Switch pre-orders have yet to go up for major game sellers like GameStop or Amazon. But other places around the world have seen pre-orders of the console. 
Some places like EB Games are starting to open up their pre-orders for the Nintendo Switch. The one pictured above, spotted by Carmineld91 on Reddit notes that this store is in Australia. We could see a similar option come to EB Games' parent company, GameStop.
As for GameStop, reports suggest we could see pre-orders for the Nintendo Switch go up as early as this week. According to GoNintendo, GameStop will begin advertising the Switch in its stores sometime this week. Even better, Legend Of Zelda: Breath of the Wild pre-orders will kick off soon as well. Presumably, this would be for GameStop stores in the United States, as places like GameStop Italy have already begun offering pre-orders of the Switch.
Nintendo Switch Price: How much could the console cost?
A Wall Street Journal reporter tweeted that we wouldn't see any news on a Nintendo Switch price in 2016, but now that it's 2017 we could see some information surrounding the admission fee to Switch-land finally surface. 
Some retailers may have already let the pricing of the Switch console slip. Eagle-eyed Reddit user playerdemand caught Argos UK leak the actual Nintendo Switch price — or maybe just make up a placeholder number. The price-point of 299.99 pounds (about $370 in US dollars) isn't an unreasonable one for what Nintendo is offering with the Switch: a handheld and home console in one. That would also place the console in direct competition with Sony and Microsoft's home consoles, which you can't take with you on the go.
Another retailer, Romanian shop Altex, has the console listed at just above $300 U.S. dollars. The site depicts the Switch costing 1,349.90 Romanian leu (roughly $313).
The most recent retailer to open up Nintendo Switch pre-orders, GameStop Italy, lists the price as €399.98 (about $420). Few of the leaked prices line up perfectly, but that difference is likely due to the variation between currencies.
Nintendo Switch Price and Pre-Order: When can we expect official details?
Official details for the Nintendo Switch pre-order, pricing and availability will arrive the night of Jan. 12. Nintendo will have a live online broadcast explaining all (or hopefully most) of what we've been anxious to know. We'll be bringing you more details as they're revealed!
More Nintendo Switch news, rumors and updates
Check out more Nintendo Switch coverage, including Mic's reports on whether the console will be backwards-compatible, what current games we want high-definition remakes of and information about the upcoming event.