'Rime' Game Release Date: Trailer confirms Nintendo Switch, Xbox One, PC and PS4 launch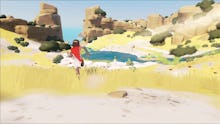 The Legend of Zelda: Breath of the Wild has a beautiful open world filled with puzzles and mysteries to explore, but it won't be the only game like that available for the Nintendo Switch in 2017. This week, the enticing indie game Rime re-revealed itself to the world with a fresh trailer, some new consoles —including the upcoming Nintendo Switch — and a release date.
Rime Game Release Date and Trailer: An island full of mystery and wonder
Revealed as a PS4 exclusive all the way back in 2013, Rime went quiet during 2015 and 2016 as the developers at Tequila Works went heads down on the project. It will be the studio's first game since the moody sidescroller Deadlight, which launched in 2012.
You play as a boy who has to explore an open world set on a gorgeous island populated by mystical ruins. You'll run, jump, climb and swim your way around the island, solving puzzles to figure out exactly what's going on. The trailer shows some pretty wild stuff, from a rolling orb that controls the time of day to ancient bipedal robots. 
Rime Game Nintendo Switch: No longer a PS4 exclusive
The fact that Rime is finally coming out is huge news, but the biggest news is that it has a few new homes. It's still launching on PS4, but it's now also coming to Xbox One, Nintendo Switch and PC on May 9, according to an updated Amazon listing.
To see Rime in action, check out the trailer below.
Nintendo Switch news, rumors and updates
Check out more Nintendo Switch coverage, including Mic's reports on whether the console will be backwards-compatible, what current games we want high-definition remakes of and information about the upcoming event.