Oscar predictions 2017: What will the Golden Globes mean for the Oscar race?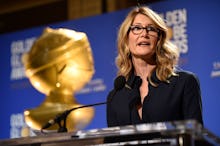 The Golden Globes air Sunday night on NBC and with the minor exception of the Critics Choice Awards, they will offer us our first real look at what our 2017 Oscars winners lineup could be. The awards have long been considered a precursor for the Academy Awards; if a star wins a Globe, they're likely to at least earn an Oscar nod.
But how will this year's nominees shake out — and which will continue on to the Oscars stage? We've broken down the top acting races, as well as the best picture categories (for both comedy/musical and drama), and given our take on how that will affect the Oscars come February. (Predicted winners are listed in bold.)
Best actress
Drama
Amy Adams, Arrival
Jessica Chastain, Miss Sloane
Isabelle Huppert, Elle
Ruth Negga, Loving
Natalie Portman, Jackie
Comedy/musical
Annette Bening, 20th Century Women 
Lily Collins, Rules Don't Apply
Hailee Steinfeld, The Edge of Seventeen
Emma Stone, La La Land
Meryl Streep, Florence Foster Jenkins
Consider Emma Stone a lock to win the comedy/musical category, but Natalie Portman is on shakier ground. The Jackie actress could potentially lose to Amy Adams, who is beloved by the Hollywood Foreign Press Association — she won in a surprise for Big Eyes, and won for American Hustle as well. If Adams wins the Golden Globe, and Portman can't regain momentum by beating Stone at the Screen Actors Guild awards, the La La Land actress may ulimately see herself shut out of what has so far been a tight race.
Best actor
Drama
Casey Affleck, Manchester by the Sea
Joel Edgerton, Loving
Andrew Garfield, Hacksaw Ridge
Viggo Mortensen, Captain Fantastic
Denzel Washington, Fences
Comedy/musical
Colin Farrell, The Lobster
Ryan Gosling, La La Land
Hugh Grant, Florence Foster Jenkins
Jonah Hill, War Dogs
Ryan Reynolds, Deadpool
Ryan Gosling is probably taking the comedy/musical category, but it doesn't matter. None of these men have a chance of winning the Oscar. The category to pay attention to is drama, where Denzel Washington stands a chance at upending Casey Affleck. His performance in Fences already won him a Tony in 2010, and his star power will be a boon with the celebrity-loving HFPA. If he loses, though, Affleck almost certainly will win the Oscar for Best supporting actor and actress
Best supporting actor and actress
Supporting actor
Mahershala Ali, Moonlight
Jeff Bridges, Hell or High Water
Simon Helberg, Florence Foster Jenkins
Dev Patel, Lion
Aaron Taylor-Johnson, Nocturnal Animals
Supporting actress
Viola Davis, Fences
Naomie Harris, Moonlight
Nicole Kidman, Lion
Octavia Spencer, Hidden Figures
Michelle Williams, Manchester by the Sea
These are less confusing categories, if only because they aren't split. If Mahershala Ali and Viola Davis win these Golden Globes as expected, you can consider the Oscar races all but over. If they don't, well, they'll probably still win, but it'll require a bit more campaigning on their behalf.
That said, this category typically comes early in the night; if Michelle Williams squeaks out a win, consider it a sign that Manchester by the Sea will perform well across the board all night.
Best picture
Drama
Hacksaw Ridge
Hell or High Water
Lion
Manchester by the Sea
Moonlight
Comedy/musical
20th Century Women
Deadpool
Florence Foster Jenkins
La La Land
Sing Street
This is likely gonna come down to La La Land winning comedy/musical and Moonlight winning drama, which sets them up as the two battling pictures at the Oscars. If Moonlight loses to Manchester by the Sea, though, that rewrites this awards season a bit. So far, Moonlight has been framed as the only realistic competitor for La La Land (give or take Hidden Figures), but such a win would suddenly make Manchester by the Sea a very big part of the conversation — possibly at Moonlight's expense.