Here's why Michael Keaton decided not to return for 'Batman Forever'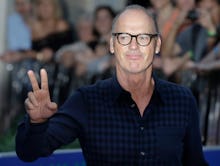 Before Micheal Keaton earned acclaim for his role in the Academy Award-winning Birdman, he played another hero inspired by a winged creature: Batman. In 1989, Keaton first starred as Bruce Wayne in Tim Burton's Batman, the top-grossing film of that year with $411 million worldwide. 
Burton and Keaton followed up Batman with the critically acclaimed Batman Returns in 1992, which also starred Michelle Pfeiffer as Catwoman. Despite the film's success, the third film in the franchise, Batman Forever, went ahead without Keaton.
After Batman Returns, Michael Keaton decided not to reprise his role as the Dark Knight. Many have speculated as to why, and Keaton's briefly discussed the decision in the past. Now, while speaking on The Hollywood Reporter's Awards Chatter podcast, the actor revealed the real reason why he gave up on Batman. 
It is actually quite simple: According to Keaton, the script "sucked." He elaborated on the podcast: "I knew it was in trouble when [director Joel Schumacher] said, 'Why does everything have to be so dark?'" 
Batman without Michael Keaton almost destroyed the character
Though it did not perform as well as its predecessor, Batman Returns was still largely a financial success. Still, it was noted for its dark tone, which many parents criticized for scaring their young children. As a result, Tim Burton was replaced at the helm of Batman Forever with Joel Schumacher. Subsequently, Michael Keaton left the role, with Val Kilmer taking over as Batman. For fans of the Caped Crusader, the rest is history. 
While also a financial success, Batman Forever was ultimately dismissed by critics, and its sequel, the George Clooney-starring Batman & Robin, is generally considered one of the worst films (of any genre) in cinematic history. It took nearly a decade for Batman to hit the big screen once again, as Christopher Nolan revitalized the property in his The Dark Knight trilogy starring Christian Bale. 
Now, of course, Batman is played on the big screen by Academy Award-winner Ben Affleck, who first appeared in Batman v Superman and will reprise his role in Justice League and the tentatively titled The Batman, which he may also direct. While Batman v Superman remains a polarizing film, with fans generally enjoying it more than critics, one point of agreement is Affleck's stellar take on the character. 
So, while Batman has seen some dark days, the future is bright indeed.  As for Michael Keaton, you can catch him next in The Founder, which will be released wide in theaters Jan. 20. 
Mic has ongoing coverage of Batman. Please follow our main Batman hub here.