Obama has words for Republicans who point fingers but offer no fix to Obamacare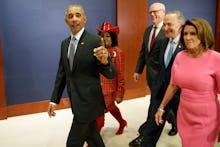 President Barack Obama headed to Capitol Hill on Wednesday to defend the Affordable Care Act, warning his party that Republicans will attempt to repeal his signature health care law with no replacement teed up, an action he said will put "real lives at stake," according to the Huffington Post's Laura Barron-Lopez.
"You don't tear down a house before having plans and building a new one," Obama told Democrats in a closed-door meeting, according to Rep. Jackie Speier, a California Democrat who tweeted from the room.
As Obama made his remarks to congressional Democrats, Vice President-elect Mike Pence also met with Republican lawmakers on Capitol Hill to discuss the Affordable Care Act repeal, which members described more as a "pep rally" than offering any concrete fixes. 
Pence told congressional Republicans that President-elect Trump will begin repealing the law with executive orders immediately after he's sworn in on Jan. 20, but offered no specifics for what those executive orders would be, nor on how they would impact the millions of people who receive coverage under the law, according to multiple reports from the room.
Republicans have railed against the health care law since it passed in 2010. But more than six years later, after Republicans have made more than 60 attempts to repeal it, there is little consensus on a plan to replace the law now that the GOP is on the verge of controlling the White House.
Larry Levitt, a senior vice president at the health care policy group the Kaiser Family Foundation, said repealing the individual mandate — which penalizes those who don't purchase health insurance in an effort to ensure young and healthy people join insurance pools — would "create chaos in the insurance market."
And even Republicans against the law are concerned about repealing without a replacement ready to go.
That includes Kentucky Sen. Rand Paul, a fierce opponent of the law.
"If Congress fails to vote on a replacement at the same time as repeal, the repealers risk assuming the blame for the continued unraveling of Obamacare," Paul wrote in a Rare op-ed.
"Removing the mandate to buy insurance while leaving in place the dictate that people can wait to buy insurance until after they are ill will only accentuate the bankrupting of the insurance industry," Paul added.