'Overwatch' Doomfist: Terry Crews stokes new character rumors with latest tweet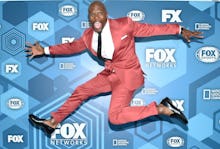 At first, the Overwatch fan casting of Terry Crews as the rumored new hero Doomfist was nothing more than that: just a fun idea floated on Reddit by a fan. However, once Terry Crews actually chimed in and said that he would "love to play Doomfist," it went from wishful thinking to full-fledged rumor. Since then, Crews has actually visited Blizzard's campus, fueling those rumors even more. 
On Wednesday, Crews' Twitter account stoked that fire again.
Overwatch Doomfist Rumors: Terry Crews stokes hype again
Crews posted a tweet with a link to an article about his aforementioned visit to Blizzard's campus, which speculates on the possibility that he could voice Doomfist.
"Who wants to hear me do the voice of Doomfist for real??" Crews wrote.
Unsurprisingly, most of the responses look something like this:
Blizzard has been known to implement Overwatch fan suggestions in the past — like making a snowman version of Mei's ice block ability for her Christmas skin — but there hasn't been anything quite at this scale yet.
If Blizzard announces anything official — or if Crews posts any more cryptic tweets — Mic will keep you in the loop.
More Overwatch news, updates, tips and tricks
For more on Overwatch, check out the rest of what Mic has to offer. Here's a roundup of the best Overwatch plays of the week, our definitive ranking of every Overwatch hero, a giant Overwatch FAQ for beginners, the latest rumors of a Terry Crews-voiced Overwatch character, all the updates in patch 2.01, the fandom's reactions to the Zenyatta Nutcracker skin, a guide to all the hidden details in the Winter Wonderland event and a list of unlockable goodies you can earn for Overwatch's other characters.