Viral photo depicts possible demon coming to portend the new year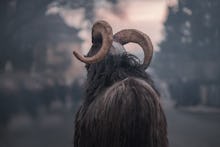 What do you see when you look at the below photo? Satan? A tree? A Rorschach inkblot? A dark harbinger of the almost certain doom awaiting 2017? 
In less leading terms, Facebook user Richard Christianson put the question to his friends and followers Sunday.
"What the hell do you see in this picture for reals??? Anybody," Christianson wrote alongside a pic of what looks like a hulking winged figure looming ominously over a poorly lit, pixelated street in Phoenix, Arizona. The post has since been deleted.
At the time of this writing, the picture had garnered more than 6,000 likes and 10,000 comments and had been shared nearly 90,000 times. People are divided over what the image depicts.
"If u look close, u will see horns on side of head, wake up, people, Revelations is upon us," one user wrote.
"Looks like an angel, but I think it is a palm tree," another mused. 
"My little people said it looks like dinosaur footprints or an eagle," yet another commenter offered. 
So what is it? An angel? A palm tree? Dino tracks? An eagle of enormous proportions? A hell beast? Satan risen out of the hellish abyss that was 2016 to set the scene for the New Year? 
Without some good old-fashioned boots-on-the-ground journalism, who can say?