Wendy's just tweeted the Pepe the Frog meme, a white supremacist mascot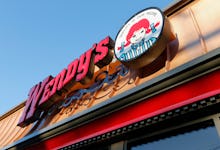 This is why we can't have nice things. 
Wendy's has apparently undergone something of a brand overhaul for 2017, getting super-sassy on Twitter with its fans and haters — including a viral clapback that schooled some user on what a refrigerator is. Today, however, the hamburger chain steered its social media strategy into an iceberg, tweeting a Pepe the Frog meme — unaware that it's the mascot of the internet's racist, white-nationalist, Trump-loving "alt-right" movement. The meme, which began life as a chill webcomic character, was designated by the Anti-Defamation League as a hate symbol in September.
Was it a sinister marketing ploy, an attempt to cater to militant right-wing patrons? Probably not. Wendy's was probably just tweeting its love of memes, but it picked one with an unfortunate — some would argue unfair — connotation. 
The tweet was removed "promptly," Wendy's later tweeted, because a community manager "was unaware of the recent evolution of the Pepe meme's meaning." (We reached out to Wendy's and will update with a response.)
"Since this used to be purely an innocuous meme, he had this fan content saved from a year or two ago," social media manager Amy Brown told BuzzFeed.