LIRR Train Crash: Latest updates on Wednesday's derailment near Atlantic Terminal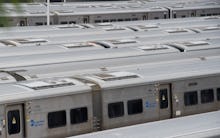 A Long Island Rail Road train derailed at Brooklyn's Atlantic Terminal Wednesday morning, leaving more than 100 people with non-life-threatening injuries, WABC reports. 
"One of the rails actually pierced the bottom of the train ... we are fortunate we didn't have serious injuries," a representative from the New York Fire Department said, according to ABC News.
The National Transportation Safety Board tweeted that it is sending a "go-team to NYC today to begin an investigation into this morning's accident there involving the Long Island Railroad."
At a news conference, Gov. Andrew Cuomo said that the worst injury is a broken leg. He added that the train failed to stop at the track's bumping block, yet it was traveling "at a fairly low rate of speed."
Several witnesses indicated that the train was going too fast and failed to stop as it entered the Atlantic Terminal.
Images and videos of the crash's aftermath appeared on Twitter.
One passenger took pictures of the damaged train from the inside, as shared by amNewYork's Twitter account:
An estimated 600 people were on the train when the accident occurred. Passengers were moved to the street level, according to WABC. A visibly affected witness who was on the train told WNBC, "All I remember is being on the floor."
The derailments occurs four months after a New Jersey Transit train crashed into the Hoboken Terminal in New Jersey, leaving one person dead and 108 injured.