'Super Smash Bros.' Nintendo Switch Characters: Rayman rumors run wild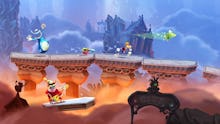 Rumor has it Super Smash Bros. 4 will make its way to the Nintendo Switch as an early title for the portable console. Nintendo hasn't confirmed the news yet, but the port has already been reported by at least one reputable source.
If the current version of Super Smash Bros. does come to the Nintendo Switch it would also make sense for the company to add a few new characters to help promote the launch. In this article, we'll be looking at one particular video game icon that would fit in perfectly with the game's current roster: Rayman.
Here's why we think Rayman belongs in Super Smash Bros. for the Nintendo Switch — and how the company could pull it off.
Super Smash Bros. Nintendo Switch Characters: Rayman makes sense
According to a recent tweet from Nintendo leaker and gaming reporter Laura Dale, Rayman Legends is set to launch on the Nintendo Switch later this year. So it makes sense that the character could also join the Smash Bros. lineup for a bit of cross-promotional fun.
In 2015, the folks behind Super Smash Bros. announced that they were done adding new characters to the game following a fan vote that brought Bayonetta to the series as a downloadable fighter. However, it's possible we could see new DLC revealed for the Nintendo Switch version.
Rayman was a part of the conversation when it comes to new Super Smash Bros. characters for years, and one particularly plausible internet hoax only fueled the fire. But let's be honest: Rayman would make a great Smash Bros. character. He's limbless, allowing him to duck and dodge out of the way of hazardous Ness bats or Pikachu lightning attacks. He'd also pack a wallop with his disembodied fists and his propeller hair, which could allow him to easily recover after getting knocked off a platform. Who better to join the Super Smash Bros. roster?
Super Smash Bros. Nintendo Switch Characters: Could a Rayman DLC really happen?
Nintendo has used new Super Smash Bros. characters to promote other games in the past — including Corrin being added as DLC in 2016 for Fire Emblem Fates and Greninja's addition to the Smash Bros. roster for Pokémon X and Y.
The inclusion of Rayman could convince Nintendo Switch owners to play the latest installment of the game he hails from. Considering this, if Rayman Legends actually does come to the Nintendo Switch sometime between April and June of 2017, the addition of Rayman in Super Smash Bros. could come right before then.
More Nintendo Switch news and updates 
Check out more Nintendo Switch coverage, including Mic's reports on whether the console will be backwards-compatible, what current games we want high-definition remakes of and information about the upcoming Nintendo Switch event.