Wale and Tomi Lahren go at it on Twitter over rapper's diss track "Smile"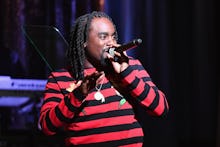 Wale may be the first popular rapper to diss the alt-right's Tomi Lahren on wax. The controversial host of The Blaze tweeted the rapper Tuesday night and was apparently unhappy with the song, especially since Wale pronounced her name incorrectly.
The lyrics Lahren pressed him on come from the rapper's latest release: "Smile," featuring Phil Ade. The exchange is below:
On the track, Wale laments about the the anxiety of being a Black person in America, particularly in the country's current political climate. Lahren, who's publicly criticized several black activists in the past, including Jesse Williams and Colin Kaepernick, was called out on the track:
"On behalf of Charlamagne I'm sure he ain't trading sides/
The rapper mentions Charlamagne tha God, co-host of Power 105.1's The Breakfast Club. The radio personality met with Lahren to discuss her politics in December, a move that was met with much criticism. 
On "Smile," Wale vented his frustrations with President-elect Donald Trump's inauguration into office on Jan. 20 — "an impossible bigot slash misogynist is 'bout to run the whole damn thing," he raps about the future head of state. 
Wale has accomplished his share of high-level civic duties for the Obama Administration in recent years. In July 2015, he performed at the White House and worked with Michelle Obama on her Reach Higher Initiative, which supports college-bound students who have overcome obstacles in their quest to pursue higher education. He performed again last January before President Obama's final State of the Union Address. 
Thanks to Lahren's public distaste for "Smile," Wale will nab a little bit of free promotion for his new track.