5 facts about Omarosa Manigault you probably don't know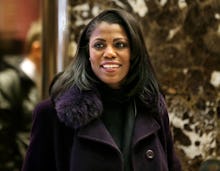 After serving as Donald Trump's director of African-American outreach on the campaign trail, Omarosa Manigault is now set to join the President-elect in the White House. Manigault will reportedly join the Trump administration in a position focused on "public engagement," CNBC reports.
Here are 5 things to know about the White House appointee, who first rose to fame as a contestant on the first season of Trump's reality show The Apprentice.
This won't be her first time working at the White House
Prior to her reality show fame, Manigault began her career in former president Bill Clinton's administration, where she worked in the office of Vice President Al Gore before being transferred to work with Clinton, himself.
In a 2016 interview with PBS Frontline, Manigault described her position in Gore's office as a "special assistant of logistics."
But in 2004, People quoted an anonymous "former Gore staffer" who said Manigault's position did not, in fact, involve any "logistics or advance work" as Manigault describes. "Her exact title was scheduling correspondent," the source said. "Her job was to respond to invitations."
Another anonymous source quoted in the People article said Manigault was "banished from two jobs in four years" in the Clinton White House, as she moved first to the administration's personnel office and later to the Department of Commerce. Manigault held two positions at the Commerce Department, and was "bounced" from the first "because she couldn't get along with people," according to the magazine.
Cheryl Shavers, Clinton's former Under Secretary for Technology at the Commerce Department, told People, that in Manigault's last posting in the administration "she was asked to leave as quickly as possible, she was so disruptive. One woman wanted to slug her."
She's a former registered Democrat — and Clinton supporter
Given her work with the Clinton administration, it's no surprise that Manigault was formerly a staunch Democrat before her alignment with the Trump campaign. "I've been very vocal about the fact that I had been a Democrat my entire life," Manigault told the New York Times in October. "As an African-American, that's what we tend to do."
In 2012, Manigault posted an Instagram picture celebrating President Obama's re-election in Chicago, using the hashtag #4moreyears.
Manigault also at one time showed support for Trump's opponent Hillary Clinton, whose name, the Washington Post has reported, Manigault once joked she had "tattooed on [her] left arm."
Though during a segment on PBS's Frontline Manigault described Hillary Clinton as being "caring" and "warm" to her during her White House days, she said the former First Lady had "changed" following her husband's impeachment. "A lot of the trials and tribulations that she went through changed her," Manigault said. "But I knew her before the change, before impeachment, because after impeachment, I don't really even know this Hillary."
In the Times article, Manigault also said her feelings for Secretary Clinton really changed during the 2008 primaries because of her campaign's treatment of Barack Obama, who was then Clinton's opponent. "At first," Manigault said, "I was very much supportive of Hillary, until I saw how she was treating this African-American man."
However, Manigault was still willing to support Clinton as a presidential candidate as late as Nov. 2014, when she tweeted out a message of support for Clinton's presidential campaign.
Manigault is now officially a registered Republican, which, she told the Times, "lines up much more with my Christian beliefs." 
"I feel like my eyes have been opened to the need for a greater presence of African-Americans in the Republican Party. Or in any party," she said.
She hasn't always been on Trump's side
Manigault, however, has not always been quick to support the politics of the man who helped catapult her to fame — or even his presidential bid.
In 2014, Manigault publicly disavowed Trump's statements about the conflict in Ferguson, Missouri, when the now-President-elect tweeted, "President Obama has absolutely no control (or respect) over the African-American community - they have fared so poorly under his presidency." 
Manigault lashed out against Trump in response. According to the celebrity gossip site TMZ, Manigault said Trump was "full of BS" and that he was making an already tense situation even worse.
"With tensions high in our community, we don't need more divisiveness!" Manigault told TMZ. "And the Obama bashing is getting a bit redundant."
Manigault was also not necessarily a supporter of Trump's presidential campaign from day one. According to the Daily Beast, in 2015, Manigault — then still a Democrat — defended Trump against claims of racism and misogyny, but ultimately said she wasn't sure if she'd cast her ballot for him were he to win the Republican nomination.
"It comes with so much weight," Manigault told the website. "This is the most important position in the world!" 
Her reality show credits goes beyond 'The Apprentice'
Manigault is best known for her time on The Apprentice, on which she competed in both season one and in a later season of Celebrity Apprentice. She was ultimately fired by Trump both times. 
But her reality show persona — which earned her the top spot on TV Guide's 2008 list of best reality show villains — led Manigault to a variety of other reality show appearances, including stints on The Surreal Life, Battle of the Network Reality Stars, and I Love New York.
Most notably, however, Manigault also reunited with Trump for another reality show: The Ultimate Merger. The 2010 show, which aired on the network TV One, was a Bachelorette-style competition in which men competed for Manigault's affections.
In the end, however, Manigault ultimately chose no one, as the TV star was in a relationship with late actor Michael Clark Duncan and the final man standing, Ray Lavender, was not yet divorced.
She's an ordained Baptist minister
According to Manigault's official website, she currently serves as Assistant Pastor of Weller Street Missionary Baptist Church in Los Angeles and also founded the ASK (Ask, Seek, Knock) Missionary Organization.
In a 2013 interview with Oprah Winfrey, Manigault said she was inspired to become a minister while spending time with a young girl dying of AIDS in a West African orphanage.
"It was at that moment, looking into the face, in the eyes of this dying child that I received my call to ministry," Manigault said. "Upon returning to the United States, I put reality television on hold. I put everything on hold and returned to seminary full-time."