Kal Penn donates $25K to Palestinian refugees after 'MasterChef Celebrity Showdown' win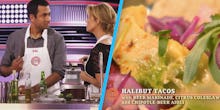 Kumar Patel is moving beyond the White Castle munchies and instead making something a little more gourmet for charity.
On Monday's episode of MasterChef Celebrity Showdown, Kal Penn, one of the actors known for those stoner classic "Harold and Kumar" films, reigned as champion, winning $25,000 to donate to a charity of his choice. Penn used the prize money to support Palestinian refugees in Syria through the United Nations Relief and Work Agency.
The UNRWA USA is an independent nonprofit organization dedicated to providing humanitarian assistance to Palestinian refugees all over the Middle East.
"Only in America can a guy make tacos on Fox TV, almost lose an eye and win $25,000 to support Palestinian refugees," Penn said, according to UNRWA. said in a tweet, according to UNRWA USA. "I'm thrilled to be helping UNRWA do its critical work in Gaza and Syria. They're a lifeline for so many families that have been struggling for decades to meet their basic needs and achieve their rights."
The celebrity contestants were challenged to cook a meal using one main ingredient — beer — where judges celebrity chef Gordon Ramsey and Momofuku Milk Bar owner Christina Tosi decide which one was best. 
Penn's winning meal? A beer-marinated halibut paired with citrus coleslaw and chipotle-beer aioli. 
"Much of our own media attention is focused away from the human stories of children and families who are suffering due to displacement against the rule of international law, terrorism and violence from so many sides," Penn said in his tweet. "So having the chance to cook to benefit refugee families on MasterChef seemed like the right thing to do." 
Other celebrities like Anthony Anderson of "Black-ish" and Good Charlotte's Benji and Joel Madden competed in the MasterChef Celebrity Showdown to win donation money for the Watts/Willowbrook Boys & Girls Club and MusiCares, respectively. Celebrities receive $15,000 in donation money for their respective charities for competing in the game show.
In 2016, the Israeli-Palestinian conflict displaced about 1,300 Palestinians, with over 600 of them being children, according to UNRWA. On December 28, Secretary of State John Kerry made a speech pressuring the global community to come together, seek peaceful solutions and provide financial support to Palestinian refugees.
"As part of a comprehensive resolution, [the Palestinian refugees] must be provided with compensation, their suffering must be acknowledged and there will be a need to have options and assistance in finding permanent homes," Kerry said in his address. "The international community can provide significant support and assistance ... including in raising money to help ensure the compensation and other needs of the refugees are met, and many have expressed a willingness to contribute to that effort."