A 'Game of Thrones' alum is on 'Celebrity Big Brother' for the "psychological experiment"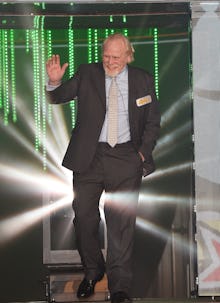 In an unexpected career move, James Cosmo, who starred on Game of Thrones as the commander Jeor Mormont, will appear on the newest season of Celebrity Big Brother. 
The British reality TV show, which airs on Channel Five Broadcasting, features a group of 14 celebrities who move into a house to live together, isolated from the outside world. One housemate per week is evicted by public vote. 
Why is he on the show?
Contestants often find themselves propelled to fame thanks to their appearances on the show, but Cosmo, whose lengthy acting career has also included the TV series Sons of Anarchy, Roughnecks, Running Scared as well as the films Braveheart, Trainspotting and Troy, is already very well-known. 
"I'm looking forward to the psychological experiments of living with people I don't know," Cosmo said of his decision to join Celebrity Big Brother. "It depends on the duration; there are not many people I could not live with for even a short period of time."
Who are his housemates?
Cosmo will be living in the house with singer Ray J, mother-and-son duo Calum and Angie Best, reality TV stars Heidi Montag and Spencer Pratt, athlete Jamie O'Hara, singer and author Coleen Nolan, models Jasmine Waltz and Nicola McLean, X Factor USA contestant Stacy Francis, DJ Brandon Block and model Austin Armacost.
Who is Big Brother?
Contestants on Celebrity Big Brother, whose name comes from the name of the leader of a totalitarian state in George Orwell's book 1984, are constantly under video surveillance. 
Mic has ongoing Big Brother coverage. Please follow our main Big Brother hub here.