Trump Inauguration Protests: Here are the groups applying to protest Inauguration Day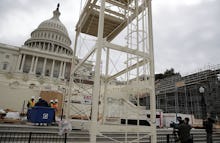 Although Inauguration Day is a moment to celebrate an "American tradition" as well as a peaceful transition of power, President-elect Donald Trump's swearing-in as the 45th president of the United States is expected to encounter a string of protests all across Washington, D.C.
In fact, the Women's March on Washington will hold one of the largest protests on Jan. 21. The Washington Post reported that more than 100,000 people have registered to attend the demonstration linked to Trump's inauguration ceremony. It is one of the very few organizations that secured a permit from D.C. police to gather as many as 200,000 individuals at Independence Avenue and Third Street SW. Likewise, ANSWER Coalition received a permit to hold a demonstration on Freedom Plaza against war and racism while supporting immigrant rights, yet it is still waiting for additional permits should they gather in areas such as Pennsylvania Avenue or the White House sidewalk, Politico reported. 
On the other hand, a handful of groups are still awaiting permits. Politico released the following list of groups that have applied to protest during Inauguration Day so far — some of them either in favor or against the president-elect.
Groups awaiting permits
• ANSWER Coalition: A demonstration calling to stop the Trump agenda
• March for Life Education and Defense Fund 2017: An anti-abortion march on the Roe v. Wade anniversary
• Reform America: A rally about First Amendment rights and anti-abortion displays
• ISKCON: Demonstration to "attract people to God with music and books" 
• DC Action Lab: Free speech demonstration
• Progressive Independent Party: Freedom of speech demonstration
• Real Progressives: First amendment rally 
• People's Action: Demonstration for grassroots community leaders
• National Action Network: A rally titled "Protect Dr. King's Dream and Obama's Legacy"
• American Constitution Society: Demonstration for American unity
• Rev. Patrick Mahoney, Church on the Hill: Prayer vigil
• The Gathering for Justice, Bob Bland and Fountain Pearson: Rally for women's rights
• Mark Thompson: Inaugural renewal for Martin Luther King Jr. monument
• Let America Hear Us, Roar for Trump!: Rally showing support for President-elect Trump 
• Chris Cox/Bikers for Trump: A demonstration encouraging peaceful transition and to celebrate Trump
• Petition for End the Politics of Division:  A call to Trump to be a "president of equality" 
• Lauren Footman: A rally to show unity and the need for a just society
• Peoples Power Assembly: First amendment gathering for jobs and civil rights
• Deidre Foley Citro/QuakerNana.com: One-woman fasting vigil 
• Westboro Baptist Church: A rally condemning same-sex marriage and idol worshipping
Groups that withdrew permit requests
• Citizens for Trump: A rally to support Trump