Hey Mic readers! We want to hear from you!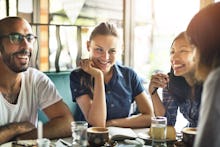 At Mic, we are always working to make the content we offer the best it can be. Hearing directly from our readers is a big part of that process. We're currently seeking Mic lovers to participate in a fun, interactive 90-minute discussion group, focused on your perceptions of the Mic brand and offering.
We'll be holding discussions in New York (on January 23rd) and Los Angeles (on January 26th).
As a thank you for your time, all discussion group participants will receive a $100 gift card to Amazon.com!
Interested? Great! Please fill out the questions in this brief survey. If you qualify for the discussion group, you'll be contacted via email by our partners at Brand Intersection Group with further details and to confirm your participation. 
The link to the survey can be found here!
Thank you! 
The Mic Team
--- 
Please note: Completion of the survey does not constitute confirmation for participation. If you are selected to participate, you will be contacted by our partner Brand Intersection Group to complete the screening process and confirm your participation. This survey is for market research purposes only. There will be no direct sales or promotions as a result of your participation. Your individual responses will be kept confidential and anonymous and reported only in the aggregate.