Bitcoin is now worth more than gold and is trading at its highest price ever: Here's why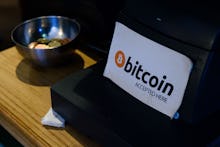 Bitcoin has had a rough few years. In 2013, it was all the rage — enthusiasts pumped for electronic money used the digital currency to buy pizzas and artwork, and exchanges cropped up near and far. Then, the novelty wore off. Warren Buffet called it a "mirage" and buyers shied from its risks and volatility.
By the end of 2014, bitcoin prices were plummeting — down to lows in the $200 per coin range in 2015. The world turned away.
Now that's changing, quickly, and some may be kicking themselves for sleeping on bitcoin. Over the past week, the price of a single bitcoin has skyrocketed, passing its highest ever trading price — $1,165 in November 2013 — and is now more valuable than an ounce of gold.
At the time of publication, the price for one bitcoin was more than $1,263: Gold currently trades just above $1,237.
Bitcoin prices have been trending up for months, with single coin prices shooting up to the $500 to $600 range in Sept. 2016, finally breaking the $1,000 threshold on Jan. 2.
So why is this happening, exactly?
At least one factor could be a growing customer pool for cryptocurrency in China, where the yuan is in bad shape. "Some wealthy Chinese have used Bitcoin to evade their government's strict controls on moving money in and out of the country," Nathaniel Popper wrote for the New York Times in January.
Another factor is market uncertainty stemming from political upsets like Brexit and a global rise in economic populism.
In this uncertain environment, even a dark horse like bitcoin can surprise us all.
Sign up for The Payoff — your weekly crash course on how to live your best financial life. Additionally, for all your burning money questions, check out Mic's credit, savings, career, investing and health care hubs for more information — that pays off.