Nintendo Switch Specs, Leaks and Rumors: Potential memory storage problems emerge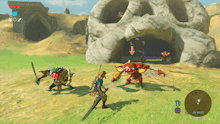 With about a week to go until the big Nintendo Switch reveal event in Tokyo, where Nintendo is expected to announce an official release date and price, details continue to leak about the specs for the handheld/console hybrid gaming device. Each leak and rumor brings more promise, but also more potential concerns.
Namely, how are we going to store our console-sized games on a handheld device?
Nintendo Switch specs: Potential internal storage concerns
The primary selling point of the Switch is that you can play big console games like The Legend of Zelda: Breath of the Wild either at home or on the go. This means you won't have to carry around a bunch of discs, physical Switch games will be stored on small cartridges, similar to what you'd see on a 3DS. Whether all games will be available for download hasn't been confirmed, but since each current console, including the Wii U and 3DS, offers that feature, we can assume the Switch will too.
The problem is that the rumored internal storage capacity for the Switch is inadequate for modern console games. Let's Play Video Games has reported the Switch will support SD cards up to 128GB in size, while tipster Emily Rogers tweeted the console will come with 32GB built in. Compare that to the PS4 and Xbox One, which offer 500GB in their base models and up to 2TB on premium models.
Any console gamer can tell you that 500GB can fill up fast with the size of today's games. Sixty-dollar releases typically take up 50GB or more on their own, and that grows with the inclusion of downloadable content and patches. If the Switch only supports up to 160GB (between internal storage and an SD card sold separately), that's a problem. 
The use of cartridges instead of discs will theoretically remove the need to install games, mitigating the memory concern to a degree. Still, patches, DLC and primarily downloadable games like Rime will still add up. Hopefully, you can connect an external hard drive to the Switch when it's docked to the television, a feature the Wii U supports. If not, prepare to delete Switch games as soon as you're done with them.
More Nintendo Switch news, rumors and updates
Check out more Nintendo Switch coverage, including Mic's reports on whether the console will be backwards-compatible, what current games we want high-definition remakes of and information about the upcoming event.