'Star Wars Rebels' trailer: Watch Obi-Wan and Darth Maul prepare for a rematch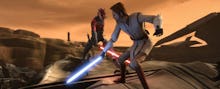 The Force is still very much strong with the Star Wars franchise. The first installment in the sequel trilogy, Star Wars: The Force Awakens, delighted critics and fans alike all the way to a record $936 million at the domestic box office. Just a few weeks ago, Disney released Rogue One: A Star Wars Story, the first of several planned Star Wars anthology films. That film also received overwhelmingly strong reviews, and to date, has earned over $800 million worldwide.
If you have already seen Rogue One (perhaps multiple times) and are now upset that you will not have any new Star Wars stories to watch until Star Wars: Episode VIII comes out in December — think again. There is much to look forward to in the Star Wars franchise, and not everything requires such a long wait. 
For example, Star Wars Rebels, which is currently in its third season on Disney XD, will return from its mid-season hiatus on Jan. 7 at 8:30 p.m. Eastern. Disney just dropped the mid-season trailer for Star Wars Rebels, and the ending sequence teases a long-awaited rematch between Obi-Wan Kenobi and Darth Maul. The two previously dueled in The Phantom Menace and The Clone Wars animated series. 
For those that have not watched any of Star Wars Rebels or The Clone Wars, it may be a bit understandable if you are confused. Didn't Darth Maul die in Star Wars: Episode I — The Phantom Menace from plummeting down a seemingly endless shaft after his duel with Obi-Wan, you might be asking yourself? Actually, no. Darth Maul returned in The Clone Wars animated series, and has since appeared in Star Wars Rebels. 
Even if you have not been watching any of Star Wars Rebels, you may want to tune in, if anything, so you can see Darth Maul (honestly, still the coolest-looking Sith) and Obi-Wan Kenobi do battle once more. 
Check out the mid-season trailer below:
Mic has ongoing coverage of Star Wars. Please follow our main Star Wars hub here.