Soulja Boy reveals the real reason he's been starting beef with Chris Brown, Lil Yachty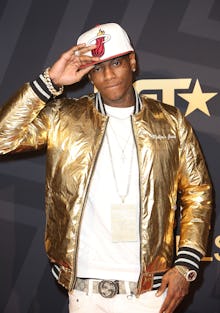 Four days in, Soulja Boy has already had an exceedingly rough 2017. Starting back in Oct. 2016, the rapper — who skyrocketed to Billboard chart fame in 2007 with the hit "Crank That" — has been making absurd headlines for attempting to start beef with various rappers, including Quavo of Migos, Lil Yachty and most recently Chris Brown — the first over a diss, the latter two over Instagram comments.
But according to a Twitter video released Wednesday, it seems it was never really about the 'gram — this is about something much deeper and far closer to Soulja's heart.
Around 11 a.m. Wednesday, Soulja Boy released a PSA on his Twitter, apologizing to Brown, Quavo and Yachty, revealing the real reason he's been wilding out on social media is grief. 
"I just want to send an apology," he said in the video. "Over the past couple of months I've been acting out, I've been wilding out, and at the end of the day it's not about who starts the beefs, it's about who ends them."
Soulja's mother has been in the hospital and he recently had a realization, presumably after he was jumped and had his phone snatched Tuesday, that she wouldn't be proud of his recent actions. Everything will be alright, the doctors have reassured Soulja, but "no amount of money, no amount of cars, no amount of fame will make me be alright knowing my mother is sick."
He pledges to turn over a new leaf: "I want to make music with Chris Brown, Yachty, Quavo, everybody ... I'm back to the music."
However, a large swath of fans on Twitter see this only as one more step in a long, drawn-out publicity stunt.
Soulja Boy's last album, Loyalty, dropped in 2015 to little fanfare and mixed reviews. But honestly any music, no matter how grating, is a better look than what fans have had to witness the past few days. 
After commenting on a picture of Brown's ex, Karrueche Tran, on Instagram, Soulja Boy sparked a vicious back-and-forth with the R&B singer. In one of his most vitriolic comments, Soulja clapped at Brown: "You think you hard because you hit Rihanna," he said in a video rant, referring to Brown's 2009 assault charge. "Stop snorting so much coke."
The odd confrontation came to a head late Tuesday after one of Soulja Boy's livestreams appeared to capture him being robbed in a Compton neighborhood, though later in the evening, Complex reported, Soulja posted again to throw more shots at Chris Brown.
None of Soulja Boy's one-time rivals have responded to his olive branch as of yet. For all we know, Brown is still gearing up for the boxing match between Brown and Soulja Boy that boxer-turned-fight-promoter Adrien Broner has been trying to hype up. Broner posted about it most recently about an hour after Soulja Boy's apology. 
But the rapper is already trying to turn people's attention back to his music, posting a new song "Thot (Ah Ah)" around 1 p.m. Wednesday, tying up what may soon go down as the strangest and most misguided publicity stunt in hip-hop history.