'Madden 17' Ultimate Team Update: NFL Predictor blends prop betting and gaming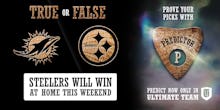 Madden and betting are both synonymous with professional football, so why not blend both things together?
That may have been the thought process that led to the newest Madden NFL 17 Ultimate Team promotion.
Madden 17 Ultimate Team Update: How it works
Madden Ultimate Team delivers the most consistent stream of content among the various collector modes in the sports video game universe. NBA 2K's MyTeam, FIFA and NHL's Ultimate Team and even MLB The Show's Diamond Dynasty have come a long way, but MUT never seems to slow down.
NFL Predictor is designed to play off the upcoming NFL postseason. Fans are charged with playing solo challenges that award "True" or "False" badges. Those badges can be used to predict whether specific events will take place in this weekend's slate of postseason matchups.
You can also pick the winners of the four games. For example, one of the true-or-false scenarios reads this way:
"Giants at Packers: [Odell] Beckham Jr. Beckham has 1+ receiving TDs. A correct pick is worth 2,500 coins."
If you complete the associated solo challenge and use a "true" badge you've been awarded from this scenario, and Beckham has at least one receiving score against the Packers, you'll win 2,500 coins.
Another one might be team related. You may only be asked to predict if the Seattle Seahawks will win at home against the Detroit Lions. This, too, is a true-or-false question.
Placing the appropriate badge prediction on this game carries a reward of 750 coins if you select "true," but a 1,000-coin reward if you choose "false." 
The rewards are set based on the daringness of the prediction. Since the Seahawks are favored to beat the Lions, it takes more guts to predict them to lose, thus the higher reward.
It's a pretty sweet concept, and it further proves why all of the other collector modes are staring up at Madden Ultimate Team.
More sports game news and updates
Are you a sports gamer? Check out more content from Mic, including Kyrie Irving's Christmas day game-winner re-created in NBA 2K17, some FIFA Ultimate Team predictions for new signees in the MLS, Madden 17 Ultimate Team NFL Playoff updates and WWE 2K17 DLC news.