'Good Behavior' season 1 finale plot released online; what will happen in episode 10?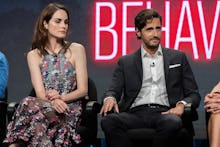 Good Behavior, the TNT TV drama that follows a released convict attempting to rebuild her life, has put out a teaser for the finale of its first season, and it hints at a climactic ending on Tuesday, Jan. 10. 
Starring Michelle Dockery, who played Lady Mary Crawley on Downton Abbey, Good Behavior has chronicled the efforts of Letty Dobesh, played by Dockery — a con artist and thief who served time in prison to repair her relationships with her mother and her son. Even more complications arise when Letty begins a relationship with Javier, played by Juan Diego Botto, a contract killer whose life she had endangered in episode nine. 
"Letty makes a devastating choice and once again has to clean up her own mess. But this time it's to save Javier," the episode teases. The trailer shows Letty attempting to stop Javier from fulfilling his next contract, followed by Javier raising his hands, as if in surrender. 
Letty, a present-day American woman with questionable motivations — a meth addiction and a penchant for positive affirmations — was a marked departure for Dockery from the upper-class and extremely British character of Lady Mary on Downton Abbey. 
The season one finale of Good Behavior airs on TNT Tuesday, Jan. 10 at 9 p.m. Eastern.