Kentucky lawmakers propose ban on abortions after 20-week mark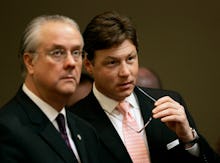 Legislators in Kentucky marked their first session of the year with the proposal of a bill that would make it illegal for women to receive an abortion after 20 weeks.
According to the Lexington Herald Leader, the Senate is slated to convene for a vote on the legislation some time this week. If senators vote yes on the bill, known as Senate Bill 5, it would move on to the House, where Speaker Jeff Hoover said it would be met with "overwhelming support." 
Ohio Gov. John Kasich signed the state's own 20-week abortion ban bill in December. Though Kasich came out looking heroic for not signing the "heartbeat bill" that would have banned abortion after six weeks, a 20-week threshold still significantly impacts women's access to abortion. 
"The 20-week ban will force women to travel long distances and cross state lines in order to access safe, legal abortion — a barrier that many women simply cannot afford," Dawn Laguens, executive vice president of Planned Parenthood Action Fund, wrote of the Ohio legislation. "This is just another shameful attempt by John Kasich to make abortion illegal."
The onslaught of states proposing anti-abortion legislation is no coincidence. With a president keen on appointing a Supreme Court justice who wants to overturn Roe v. Wade, state lawmakers feel more emboldened than ever to come as close to a total ban on abortion as possible. 
This week, Kentucky legislators in the House also plan on introducing a bill that would require women to receive an ultrasound before seeking an abortion.
"This is my belief: there are two viable beings involved," Kentucky Senate President Robert Stivers told the Herald Leader. "One had a choice early on to make a decision to conceive or not. Once conception starts, another life is involved, and the legislature has the ability to determine how that life proceeds."