How to get into Governors Ball and Bonnaroo without paying hundreds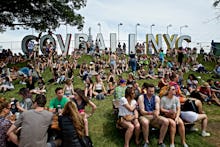 Once upon a time there was a man named Marcus Haney. He was the Davy Crockett of the festival world, a man who has reportedly slipped his way into 50 music festivals over the years, including some of the most high-risk, high-security gatherings in the country, including Bonnaroo, Glastonbury, Coachella and even the Grammys. 
We do not in any way condone the drastic actions Haney went to secure a ticket — but we have others. Here are some options available to you if you're not able, or not willing to sell organs to pay the steep fees for festival tickets.
Miss a little music and volunteer at the fest
The easiest, best and perhaps the most fulfilling way to get a pass to some of the country's biggest festivals, including Bonnaroo and Governors Ball, is to volunteer. Most festivals have some sort of program, which will essentially offer free passes to people who agree to work a set amount of hours over the festival weekend. The catch is that most require a small processing fee, usually $25, and a deposit of around the cost of a ticket simply to ensure you don't skip out on your responsibilities when you're needed. You'll get it back if you work your shifts.
In 2015, Governors Ball required volunteers to work three, five-hour-long shifts, with some people's hours taking place before the festival grounds even open. Bonnaroo requires 18 hours, spread out into three, six-hour shifts. You'll have to miss a little music, but considering there's nearly 12 hours of it each day at Governors Ball and even more at Bonnaroo, it's not a huge loss. No one's ears and body can really process and enjoy the full 50+ hours of music that a festival like Bonnaroo offers anyway.
Miss nothing and work before the fest.
If you're not down to miss any of the music, Governors Ball offers opportunities for fans to rack up volunteer hours before the festival even starts, and it's all thanks to the Governors Ball's Gives Back program. Participants will need to volunteer a set amount of hours at local not-for-profit programs to earn free tickets. Past partnerships have included the Food Bank for New York City, The Salvation Army and the NY Common Pantry.
According to the Governors Ball website, "GBGB has partnered with NYC soup kitchens and pantry programs NYCommon Party and the Salvation Army, to help reduce hunger and improve the lives of New Yorkers in need."
Specifics on the program are still forthcoming.
Of course, one can always try to bank on a local radio contest or other assorted give away. But who wants to be at the mercy of the lottery? 
There's something to be said for feeling like you have an actual stake in the events, like you're part of the family, especially at an event like Bonnaroo, which functions like a small city for a weekend. 
Why pay festivals, especially when you can't be sure where that money is going, when they could pay you.