Coachella owner Phil Anschutz has history of funding anti-LGBTQ and climate denial groups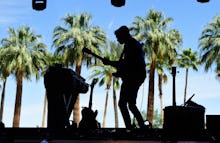 On the surface, Coachella Valley Music and Arts Festival has seemingly long stood as a haven for creativity, freedom of expression, peace and love — vestiges of a festival culture stemming from '60s counterculture. This year, with Beyoncé headlining, the festival has seemed particularly welcoming to liberal ideals. After all, she authored one of the most liberated and woke albums of 2016. 
However, there's something rotten at the heart of the California festival, and the values it appears to represent don't exactly line up with the practices of its corporate owner. According to reports compiled by Uproxx and Afropunk, the owner of the company that produces the festival, Philip Anschutz, has a history of funding anti-LGBTQ groups and climate denial strategy, in addition to having a record of anti-environmental scandals.
Anschutz is the owner of Anschutz Entertainment Group, or AEG, one of the largest entertainment companies in the world. It acts as a parent company to Goldenvoice, the organization that produces Coachella, in addition to managing the Los Angeles Lakers and Clippers basketball teams and running the Colosseum at Las Vegas' Caesars Palace. 
Using the revenue streams generated from all these properties, Anschutz has donated hundreds of thousands of dollars to anti-gay organizations, such as the Alliance Defending Freedom, the National Christian Foundation and the Family Research Council, according to the bipartisan advocacy group Freedom For All Americans. These groups, according to the Washington Post, are "aggressively working to chip away at the equal rights of LGBTQ Americans." 
The Southern Poverty Law Center specifically bills the Family Research Council as an "extremist group." 
Furthermore, Anschutz has been known to use his influence in state politics as well, causing advocacy groups like ProgressNow Colorado to target him specifically by name. As Afropunk notes, executive director Ian Silverii wrote in a 2016 press release: 
"Phil Anschutz's extensive influence in Colorado politics has been known for years, but the degree of his support for anti-LGBTQ groups that fund extremist hate groups like Gordon Kligenschmitt's 'Pray in Jesus Name' is shocking. At a time in American history when discrimination and violence against LGBTQ citizens is on the rise, support for pro-discrimination groups puts Anschutz on the wrong side of Colorado, and on the wrong side of history."
Beyond anti-LGBTQ causes, Greenpeace has also specifically named Anschutz as a major financer of climate denial groups, alongside fossil fuel billionaires the Koch Brothers. He's one of the attendees of the Koch Brothers biannual strategy meetings, where Greenpeace notes "millions of dollars are raised to influence politics through groups like the Heritage Foundation, Americans for Prosperity, the Franklin Center, and the other members of the State Policy Network." Anschutz also owns the Washington Examiner and the Weekly Standard, which frequently share anti-climate change talking points.
They're troubling revelations, one that casts Coachella's nearly $400 price tag in a new light. That money is going to line the pockets of a man who's interest is to actively oppose and undo so many progressive causes.
Jan. 6, 2017, 8:45 a.m.: Philip Anschutz has responded to the reports of his past donations in a statement issued to Rolling Stone, calling the reports "garbage" and "fake news," writing:
"I unequivocally support the rights of all people without regard to sexual orientation. We are fortunate to employ a wealth of diverse individuals throughout our family of companies, all of whom are important to us – the only criteria on which they are judged is the quality of their job performance; we do not tolerate discrimination in any form."
Matt McTighe, executive director of Freedom for All Americans, also responded to Anschutz's apparent change of heart telling Rolling Stone: "It's encouraging to see that even those who've funded groups opposed to LGBT equality in the past are willing to change their views and come around to opposing discrimination."