Atlanta Uber Driver Shooting Update: Driver in stable condition, police seek suspects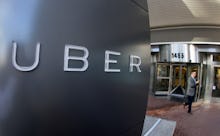 An Atlanta Uber driver who was shot around 5 a.m. Thursday morning has been hospitalized and is in stable condition, the Atlanta Journal-Constitution reported. 
The driver was dropping off a father and daughter at their home in Dekalb County, Georgia, at the time of the shooting. They were unloading their luggage when two men approached and, holding the pair at gunpoint, demanded they hand over their possessions, according to WSB-TV Atlanta. The daughter threw them her phone and wallet, affording her and her father the opportunity to get away. 
They are safe and unharmed, but the gunmen shot the Uber driver "on the way out," WSB-TV's Nicole Carr reported. 
Police are now searching for the two suspects, who dropped the stolen cell phone a few blocks away from the scene, according to Carr.