'NBA 2K17' Videos: 10 amazing trick shots at MyPARK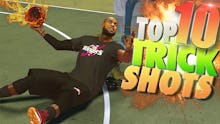 This is a video for all NBA 2K17 fans, even the ones like myself, who don't normally enjoy MyPARK.
I'm a sim gamer, 100%. The crazy trick shots and And-1 dribble moves don't really excite me in real life or in video games. If you're not a sim-gamer, chances are you enjoy playing MyPARK more than Pro-Am, MyGM, MyLeague and even MyTeam.
In any case, ShakeDown2012's "Top-10 Trick Shots" video is one of those things you simply can't turn away from until it's over. Enjoy.
NBA 2K17 videos: Did he just make that from his butt?
It was just 10 on the countdown, but LeBron James' shot from his butt had me perplexed. Was it more insane that he made the shot, or, that whomever the guy was playing against allowed him to do it?
If I'm guarding him, I'm holding turbo and vigorously tapping the jump button to swat that desperation shot out of the air.
NBA 2K17 videos: The real thing is still better
As cool as ShakeDown's countdown is, there's nothing like the real thing. His video sent me down a wormhole to find real NBA players performing trick shots, and this video from Hoops Fun had me at hello.
The combination of the two videos makes me think NBA 2K18 should have some sort of trick shot mode. 
A game of HORSE would be outstanding in MyPARK. Utilizing props and the environment to create over-the-top scenarios would spawn another layer trick shot videos. Adding a classic game like HORSE could make the already deep 2K experience even deeper.
More sports game news and update
Are you a sports gamer? Check out more content from Mic, including Kyrie Irving's Christmas day game-winner re-created in NBA 2K17, some FIFA Ultimate Team predictions for new signees in the MLS, Madden 17 Ultimate Team NFL Playoff updates and WWE 2K17 DLC news.