Memo alleges Trump Treasury nominee Steve Mnuchin's old bank illegally evicted homeowners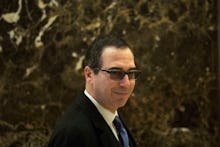 A newly leaked memo suggests a bank formerly run by Steve Mnuchin — President-elect Donald Trump's pick for Treasury secretary — may have broken California foreclosure laws under his stewardship, according to a Tuesday report from the Intercept.
The 2013 prosecutorial memo alleges that the bank, OneWest, "rushed delinquent homeowners out of their homes by violating notice and waiting period statutes, illegally backdated key documents, and effectively gamed foreclosure auctions" between 2009 and 2015, the Intercept reported.
Mnuchin, who chaired Trump's national finance committee during the 2016 campaign, was already a controversial pick to head Treasury.
OneWest, which Mnuchin and associates bought and rebranded during the financial crisis, has previously been accused of racial discrimination in mortgage lending, including breaking so called redlining laws.
The 2013 memo from state prosecutors recommended California Attorney General Kamala Harris "file a civil enforcement action against the Pasadena-based bank." 
That never happened, the Intercept pointed out.
However, questions about OneWest's conduct could potentially become an issue during Mnuchin's confirmation hearing.
"The consistent violations of California foreclosure processes outlined in the memo would indicate that Mnuchin's bank didn't merely act callously, but did so with blatant disregard for the law," the Intercept reported. 
"According to the memo, OneWest also obstructed the investigation by ordering third parties to refuse to comply with state subpoenas."
Mnuchin, one of Trump's earlier major cabinet picks, appears to be getting a warm reception from top GOP figures ahead of the confirmation hearings and the president-elect's January 20 inauguration.
"There is no doubt that Steven Mnuchin leading the @USTreasury can help reverse the last eight years of economic heartache," Senate Majority Leader Mitch McConnell tweeted in early December.
Asked about the report by HousingWire, Mnuchin spokesman Barney Keller was quoted as saying, "Memos like this belong in the garbage, not the news."
Keller also countered in contrast to the damaging assertions of the 2013 memo, OneWest "was the only bank in the country to complete the grueling independent foreclosure review by the OCC and received the top rating from government regulators for compliance."