Here's where Macy's is closing 68 stores — and eliminating thousands of jobs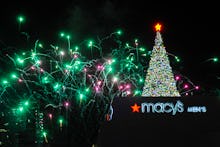 Retail giant Macy's announced on Wednesday after a tough holiday earnings report showed "comparable store sales dipped 2.1% last quarter" compared to 2015, it will be laying off thousands of employees and has closed or plans to close a total of 68 of 730 stores, CNN Money reported.
According to a Macy's press release, the company closed three of the 68 stores already, and plans to close an additional 65 others by mid or early 2017. The company estimates approximately 3,900 retail associates will be impacted though some of these employees may qualify for other jobs. Additionally, Macy's corporate division will be shedding some 6,200 additional staff as part of an initiative to "focus on eliminating layers of management to reduce costs while improving decision making and agility."
"We continue to experience declining traffic in our stores where the majority of our business is still transacted," Macy's CEO Terry Lundgren said in the statement. "Given the overall trends challenging us and the broader retail industry, and the time needed to execute new strategies, we expect our 2017 change in comparable sales to be relatively consistent with our November/December sales trend."
The New York Times reported many consumers still financially insecure from the aftermath of the past decade of economic recession had turned to lower-cost retailers "like T.J. Maxx" or online shopping services like Amazon this year, harming brick and mortar sales. Columbia Business School professor Mark Cohen told CNN Money that "it's a very hard day for the folks involved obviously, but I would also say it's inevitable. And there's definitely more to come."
Some of the stores involved cover hundreds of thousands of square feet and employed well more than 100 workers; one, a 115-year-old location in downtown Minneapolis, covered nearly 1.3 million square feet and employed 280. Others are much smaller, with one gallery in Honolulu employing nine workers.
Here's a list of the retail locations that will be closing, as well as the number of retail staffers employed at each, per the Macy's press release:
Already Completed 2016 Closings
Laurel Plaza, North Hollywood, CA (475,000 square feet; opened in 1995; 105 associates)
Ala Moana Jewel Gallery, Honolulu, HI (2,000 square feet; opened in 1986; 9 associates)
Valley Fair, West Valley City, UT (106,000 square feet; opened in 1970; 53 associates)
Already Announced Year-End 2016 Closings
Greenwood, Bowling Green, KY (124,000 square feet; opened in 1980; 63 associates)
Carolina Place, Pineville, NC (151,000 square feet; opened in 1993; 69 associates)
Douglaston, Douglaston, NY (158,000 square feet; opened in 1981; 144 associates)
Downtown Portland, Portland, OR (246,000 square feet; opened in 2007; 85 associates)
Lancaster Mall, Salem, OR (67,000 square feet; opened in 1980; 53 associates)
Oakwood Mall, Eau Claire, WI (104,000 square feet; opened in 1991; 55 associates)
Year-End Closings
Mission Valley Apparel, San Diego, CA (385,000 square feet; opened in 1961; 140 associates)
Paseo Nuevo, Santa Barbara, CA (141,000 square feet; opened in 1990; 77 associates)
Lakeland Square, Lakeland, FL (101,000 square feet; opened in 1995; 68 associates)
Oviedo Marketplace, Oviedo, FL (195,000 square feet; opened in 2000; 83 associates)
Sarasota Square, Sarasota, FL (143,000 square feet; opened in 1977; 86 associates)
University Square, Tampa, FL (140,000 square feet; opened in 1974; 73 associates)
CityPlace, West Palm Beach, FL (108,000 square feet; opened in 2000; 72 associates)
Georgia Square, Athens, GA (121,000 square feet; opened in 1981; 69 associates)
Nampa Gateway Center, Nampa, ID (104,000, square feet; opened in 2009; 57 associates)
Alton Square, Alton, IL (180,000 square feet; opened in 1978; 54 associates)
Stratford Square, Bloomingdale, IL (149,000 square feet; opened in 1981; 87 associates)
Eastland, Bloomington, IL (154,000 square feet; opened in 1999; 55 associates)
Jefferson, Louisville, KY (157,000 square feet; opened in 1979; 52 associates)
Esplanade, Kenner, LA (188,000 square feet; opened in 2008; 101 associates)
Bangor, Bangor, ME (143,000 square feet; opened in 1998; 65 associates)
Westgate, Brockton, MA (144,000 square feet; opened in 2003; 79 associates)
Silver City Galleria, Taunton, MA (152,000 square feet; opened in 1992; 82 associates)
Lakeview Square Mall, Battle Creek, MI (102,000 square feet: opened 1983; 51 associates)
Eastland Center, Harper Woods, MI (433,000 square feet; opened in 1957; 121 associates)
Lansing, Lansing, MI (103,000 square feet; opened in 1979; 57 associates)
Westland, Westland, MI (334,000 square feet; opened in 1965; 106 associates)
Minneapolis Downtown, Minneapolis, MN (1,276,000 square feet; opened in 1902; 280 associates)
Northgate, Durham, NC (187,000 square feet; opened in 1994; 72 associates)
Columbia, Grand Forks, ND (99,000 square feet; opened in 1978; 53 associates)
Moorestown, Moorestown, NJ (200,000 square feet; opened in 1999; 107 associates)
Voorhees Town Center, Voorhees, NJ (224,000 square feet; opened in 1970; 77 associates)
Preakness, Wayne, NJ (81,000 square feet; opened in 1963; 72 associates)
Cottonwood, Albuquerque, NM (173,000 square feet; opened in 1996; 56 associates)
Las Vegas Boulevard, Las Vegas, NV (178,000 square feet; opened in 1966; 84 associates)
Great Northern, Clay, NY (88,000 square feet; opened in 1989; 55 associates)
Oakdale Mall, Johnson City, NY (140,000 square feet; opened in 2000; 58 associates)
The Marketplace, Rochester, NY (149,000 square feet; opened in 1982; 77 associates)
Eastland, Columbus, OH (121,000 square feet; opened in 2006; 73 associates)
Sandusky, Sandusky, OH (133,000 square feet; opened in 1979; 61 associates)
Fort Steuben, Steubenville, OH (132,000 square feet; opened in 1974; 59 associates)
Promenade, Tulsa, OK (180,000 square feet; opened in 1996; 58 associates)
Neshaminy, Bensalem, PA (211,000 square feet; opened in 1968; 89 associates)
Shenango Valley, Hermitage, PA (106,000 square feet; opened in 1976; 69 associates)
Beaver Valley, Monaca, PA (203,000 square feet; opened in 1987; 78 associates)
Lycoming, Muncy, PA (120,000 square feet; opened in 1995; 61 associates)
Plymouth Meeting, Plymouth Meeting, PA (214,000 square feet; opened in 1966; 74 associates)
Washington Crown Center, Washington, PA (148,000 square feet; opened in 1999; 67 associates)
Parkdale, Beaumont, TX (171,000 square feet; opened in 2002; 67 associates)
Southwest Center, Dallas, TX (148,000 square feet; opened in 1975; 68 associates)
Sunland Park, El Paso, TX (105,000 square feet; opened in 2004; 71 associates)
Greenspoint, Houston, TX (314,000 square feet; opened in 1976; 70 associates)
West Oaks Mall, Houston, TX (244,000 square feet; opened in 1982; 135 associates)
Pasadena Town Square, Pasadena, TX (209,000 square feet; opened in 1962; 78 associates)
Collin Creek, Plano, TX (199,000 square feet; opened in 1980; 103 associates)
Broadway Square, Tyler, TX (100,000 square feet; opened in 1981; 65 associates)
Layton Hills, Layton, UT (162,000 square feet; opened in 1980; 72 associates)
Cottonwood, Salt Lake City, UT (200,000 square feet; opened in 1962; 88 associates)
Landmark, Alexandria, VA (201,000 square feet; opened in 1965; 119 associates)
River Ridge, Lynchburg, VA (144,000 square feet; opened in 1980; 60 associates)
Everett, Everett, WA (133,000 square feet; opened in 1977; 109 associates)
Three Rivers, Kelso, WA (51,000 square feet; opened in 1987; 57 associates)
Valley View, La Crosse, WI (101,000 square feet; opened in 1980; 57 associates)