The internet is already obsessed with 'The Young Pope' and all things papal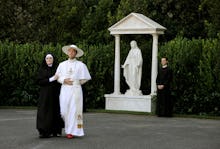 All things considered, a TV series about a rogue, Frank Underwood-like pope who happens to be very young and look exactly like Jude Law sounds like an elaborate farce, but alas, The Young Pope is a real show, and it's coming to HBO this month. The series from Paolo Sorrentino has already made its debut in Europe (to pretty good reviews), but the internet has a keen interest in The Young Pope for a different reason: its limitless potential for memes. 
The show caught the internet's attention with its flashy premise: A new pope, played by Jude Law, takes over the church, and it's soon revealed that the cardinals elected a radical conservative who seeks to make the Vatican and its leaders mysterious and inaccessible, sending them centuries behind their more progressive, present-day values of a Pope Francis.  
The absurdity of its setup has led the Twitterverse to conjure up theories to how the show was pitched to HBO, whilst others are parodying songs, replacing words with "young pope". A popular choice: Peter Bjorn and John's "Young Folks." 
Others, meanwhile, are positing how this fictitious pope would be different from the popes of the past, because of his age. He is — for popes, at least — young, as the title intimates. 
Sadly, Pope Francis hasn't tweeted about the series (yet). However, with all the internet buzz surrounding The Young Pope prior to its U.S. release date, the show will undoubtedly garner even more attention once it makes its debut. The positive reviews for the show have praised Law's performance and Sorrentino's cynical take on the Vatican's politics. 
"Sorrentino's taste for the grotesque at times gets out of hand, but generally serves him well in this comic approach to the hidebound traditions of the minuscule Papal state," Deborah Young wrote in a review for the Hollywood Reporter after its European debut in September. "Law makes the new pontiff a memorable megalomaniac, but who can call it delusions of grandeur when he's the head of a billion Catholics around the world?" 
And yes, The Young Pope is a real show — some users on Twitter apparently didn't think it was real. 
The Young Pope premieres in North America Sunday, Jan. 15 at 9 p.m. Eastern on HBO.