Why is Macy's closing stores? Donald Trump's tweets might offer a clue.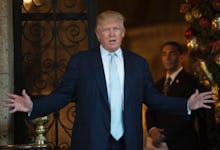 President-elect Donald Trump has taken credit for companies that have announced new jobs, or kept jobs slated to be outsourced, in the weeks since he won the election.
But he hasn't yet taken credit for Macy's Wednesday announcement that it's closing 68 stores and laying off 10,000 employees — even though Trump called on consumers to "boycott" the company "forever."
Trump's feud with Macy's began in 2015, when the company pulled his line of clothing from their stores after his racist comments about Mexicans during the presidential campaign. 
Trump sought to launch the hashtag #BoycottMacys, and said their stores "suck" and are "bad for the USA."
After Macy's Wednesday announcement of its job cuts, Twitter users were asking whether Trump would now take credit for these job cuts — which cancel out the 5,000 new jobs Sprint will create that Trump took credit for.
"Not a peep from Trump about the 10,000 jobs being lost at Macy's. Where's the help there? First Trump failure," one user tweeted. "Thanks Donald!"
"Hey Donald, you gunna take credit for the closing of 68 Macy's stores and the 10,000 people that just lost their jobs?" another user asked.
As of Thursday morning, Trump had not tweeted about the Macy's job losses.