Facebook Live Beating: Updates on Chicago teens who tortured man with disabilities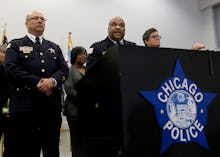 Chicago police have arrested three 18-year-olds and a 24-year-old in connection with a 30-minute Facebook Live video that shows the horrifying beating and racial taunting of a man police say has special needs.
A female member of the group — there were two men and two women — recorded a grainy, shaky video of the two young men slicing off the man's shirt sleeves while he sits helpless in a corner with his wrists bound and his mouth taped shut. Later, the video shows the two men taking turns punching the man and cutting his scalp with a knife. 
One of the men is heard yelling, "Fuck Donald Trump! Fuck white people!"
Police said the victim, an 18-year-old white man with special needs, was discovered by authorities wandering around the city "in crisis" on Tuesday. They say he was so traumatized that it took hours for him to calm down enough to speak.
Hate crime charges a possibility
According to CNN, Chicago police Cmdr. Kevin Duffin said the victim knew "at least one" of the attackers. Duffin also said that because the victim is white and the alleged attackers are black, police are looking into whether or not the case warrants hate crime charges. And while the victim may have willingly gotten into a van with the other teens, authorities are also looking into possible kidnapping charges, according to Duffin.
"Although they are adults, they're 18. Kids make stupid decisions — I shouldn't call them kids; they're legally adults, but they're young adults, and they make stupid decisions," he told CNN. "That certainly will be part of whether or not ... we seek a hate crime, to determine whether or not this is sincere or just stupid ranting and raving."
Chicago police Superintendent Eddie Johnson told CNN he did not believe the attack was politically motivated.
The attackers are still awaiting charges.
Correction: Jan. 5, 2017