Revealed Princess Diana Letters: 3 things found in the hidden letters about royal family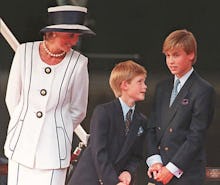 Formerly hidden letters penned by Princess Diana that reveal a more detailed look into her personal life are up for auction today in Cambridge, U.K. 
The series of personal handwritten notes, dated between 1984 and 1993, were addressed to Diana's friend Cyril Dickman, a former butler at Buckingham Palace. Other items up for bidding include cake from her wedding with Prince Charles and photos, the BBC reports.
Dickman, who was close to the royal family, held on to the letters until his death in 2012. His family decided to put some of the items up for sale, "purely because there's too much of it to keep," his grandson Matthew Dickman told the Cambridge News. 
"Cyril, who died in 2012, was head steward at Buckingham Palace for over 50 years, starting his career watching out for fires on the roof during the Blitz," a spokesperson for the auction salesroom Cheffins told the UK newspaper. 
Diana died close to 20 years ago and remains an intriguing figure in culture. Here are a few things we learned from the personal letters about her everyday family life.
William was excited about Harry's arrival
A few days after Prince Harry's birth in 1984, Diana documented her first-born's love for the newborn. "William adores his little brother and spends the entire time swamping Harry with an endless supply of hugs and kisses, hardly letting the parents near!"
Prince Harry's behavior in school
In a note dated Oct. 17, 1992, Diana revealed that her youngest was getting into mischief. "The boys are well & enjoying boarding school a lot. Although Harry is constantly in trouble!" she wrote.
How she felt about her grandmother's death
When Diana's grandmother, Ruth Sylvia Roche, The Baroness Fermoy, died in July 1993, she thanked Dickman for his support to the family during their time of grief. "Her death came as a great shock, but it has meant an enormous amount to receive messages of support such as yours."