'Truth and Lies: The Menendez Brothers': When and where to watch the documentary special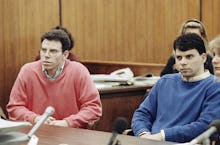 Before the 1994 trial of NFL legend O.J. Simpson for the murder of his ex-wife Nicole Brown and her friend Ron Goldman, there was another trial of the century. In 1993, Lyle and Erik Menendez were tried for the 1989 murder of their parents, Jose and Mary "Kitty" Menendez. The brothers were eventually convicted in 1996. Now, ABC will be taking audiences back to the Menedez brothers' trial, with a two-hour documentary special titled Truth and Lies: The Menendez Brothers — American Sons, American Murderers.
Starting in 1993, the trial was broadcast on Court TV, and quickly became a pop culture sensation. Court TV founder, Steven Brill, told Rolling Stone, "[The Menendez trial] probably had the effect, maybe good, maybe bad, of demonstrating that, even if you didn't have a celebrity, if the circumstances were dramatic enough, people will be captivated."
If you want to learn more about a case that captivated a nation, here is what you need to know so you don't miss a thing. 
When and where to watch Truth and Lies
The documentary special will air on ABC at 9 p.m. Eastern on Thursday, Jan. 5. For those that will not be near a television, ABC will stream the special live on their website, all you need is a cable subscription. 
Truth and Lies synopsis
The official synopsis for the special from ABC is as follows:
It was the original trial of the century that captivated the nation. On Thursday, Jan. 5, ABC will air an unprecedented two-hour documentary special on the Beverly Hills crime that shook a generation. A Hollywood movie executive and his wife, a one-time beauty queen, were brutally slain in the den of their Spanish-style mansion. Even though the murders were initially and inaccurately blamed on a mafia hit, it turned out the all-American Menendez family was far from perfect. After suspicious, costly spending following the double homicide and a confession to a psychologist, Lyle and Erik Menendez, the heirs of the wealthy couple, were arrested and charged with the grisly murder of their parents. After more than 27 years, Lyle speaks from prison on what he thinks now in this television event.