Trump Inauguration: Obama assembles farewell White House party with all-star lineup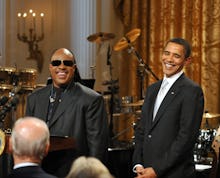 Donald Trump has been having a semi-literal hell of a time trying to bring A-list talent to the White House for his inauguration. His predecessor President Barack Obama, on the other hand, is making it look easy.
The Washington Post reports that Obama has gathered together some of the biggest names in entertainment to visit the White House for one final farewell party for friends and major donors on Friday. Attending are names the president-elect's team would likely be absolutely drooling to have appear at the inauguration to herald the birth of Trumpocracy: Stevie Wonder, Usher and Oprah Winfrey, as well as Beyoncé and Jay Z, who are both said to be performing.
The celebration is bound to overshadow the coming inauguration, which as of now, has two confirmed musical performers: Jackie Evancho and the Mormon Tabernacle Choir.
There hasn't been an official announcement from the White House yet about the details of Obama's party, but some of the guests have already begun to post about it. Chance the Rapper shared his travel plans late Wednesday, saying he was on his was to "bid farewell to the greatest president in US history."
The Independent adds Bruce Springsteen and Paul McCartney to the list of attendees, along side directors J.J. Abrams, George Lucas, Usher and Samuel L. Jackson are also said to attend. 
The festivities, brimming with star entertainers, is par the course for Obama, a man who, lest we forget, organized his own variant of South By Southwest on the White House's lawn, featuring performances the Lumineers, Sharon Jones & the Dap-Kings and DJ Beverly Bond.
Unfortunately for us, it's unlikely the public will get to see much of the festivities, if it goes the way of past Obama family White House parties, such as their private Prince concert in 2015. Ensuring the secrecy, cellphones will be confiscated at the White House security gate, according to the Washington Post.
Tales from the all-star bash are bound to leak out, though, offering one last glimmer of the president's excellent singing voice and kind-hearted humor as we head into four long years of Trump.