Maybelline casts its first ever male campaign star, Manny Gutierrez (aka Manny Mua)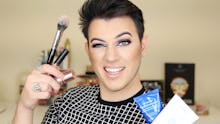 "Is men in beauty ads the next step for the makeup industry?" That was the headline for an article Mic published in March 2016 after Maybelline posted a photo of male beauty blogger Manny Gutierrez (aka Manny Mua) on its Instagram.
The answer then seemed uncertain. "Somehow our society decided that only women should wear makeup," Jake-Jamie, a U.K.-based makeup artist, said in an interview at the time. "We often hear phrases like 'manning up,' 'getting on with it' and being 'strong and silent,' and this has left men little space to reposition or redefine themselves in society."
Now, 10 months later, we have a definitive answer: Yes, men have a place in beauty ads. On Tuesday, Gutierrez took to Instagram to announce to his 3 million followers his new gig as the first-ever male spokesperson for Maybelline.
"2017 you are off to an AMAZING START OMG!" he wrote. "So excited to finally announce that I am part of the @maybelline #bigshotmascara campaign! Honestly I couldn't be more honored thrilled! Thank you to Maybelline for taking a chance on me! I look forward to working together so much more."
In an official statement, Gutierrez said that he was "thrilled to be able to work with a global brand like Maybelline that is recognizing male influencer talent and is willing to shine a spotlight on it."
The campaign thus far consists of a two-part video (both of which are featured on Maybelline's official Instagram), featuring Gutierrez and celebrity makeup artist Shayla arriving at a hotel, where they decide to get "bossed up."
That's when a bellboy enters with a luggage cart full of suitcases, all filled with makeup. "Mama's getting extra today," Gutierrez tells Shayla, as they proceed to throw mascara onto the bed and roll around in it — as one should do when suitcases full of mascara are delivered to their hotel room.
Time to apply:
Cut to Gutierrez and Shayla revealing their post bossed-up glam, re-entering their hotel suite to find the very same busboy, bossed up himself, rifling through their robust mascara collection. 
No bother, though, as they both throw come hither glances his way, innuendo bubbling.
In part two, the pair link up with a sweepstakes winner to help her, too, get bossed up and head out to a club, which offers up mascara on trays (sure, why not?).
Both ads are devoid of any kind of messaging sensationalizing Gutierrez's appearance, subversively destigmatizing the idea that makeup is a gendered domain.
Men wearing makeup in campaigns is not an entirely new concept. As Mic's Rachel Lubitz previously reported, makeup brands such as Tarte, Nyx, Stila and Benefit have also used social media as the space to diversify the image of what a makeup consumer looks like by featuring male beauty bloggers to help promote their lines.
It's a topic that gained particular steam in the tail end of 2016 after CoverGirl cast its first-ever male spokesperson, beauty vlogger James Charles.
Now, with two of the biggest beauty brands spotlighting men in makeup, expect to see a ripple effect throughout the industry, hopefully shifting the larger conversation about the role that makeup can play in a person of any gender's lives.