How did 'Nashville' season 4 end? Here's what to know before the season 5 premiere.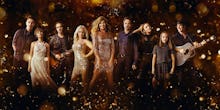 After being canceled by ABC after four seasons, Nashville returns for its fifth season on its now home, CMT (with next day streaming on Hulu), starting Thursday night. 
Nashville is back with a two-hour season premiere, and from the looks of the trailer, we're in for a doozy of a season. For those who missed it, this is how season four of the country drama ended and where it'll likely pick up. 
Nashville season four finale
The season four finale left fans on a cliffhanger. Viewers were left wondering if Juliette's plane was going to crash, which we find out it does. 
This comes after Juliette does a TV interview at the Oscars addressing her involvement in Jeff Fordham's death (he died saving her from an attempted suicide), which she has to respond to after Layla's manager and Avery come to the realization that Layla leaked the information of Juliette's involvement. As a result, Layla is dumped by both.
Scarlett ultimately confesses her love for Gunnar, even though he is still with their boss Autumn, and the exes kiss during a performance for everyone to see — including Autumn. 
Elsewhere, Rayna has to fight for her daughter. After finding out Maddie is about to work with a troubled producer, Rayna uses an open letter to share her experience with the producer, who liked to go after younger girls. The letter ultimately saves Maddie from a similar experience and Maddie reunites with her mother and sister. 
One of the bigger plot lines from season four is Luke and Will's goal to have both the press and audiences accept an openly gay country artist. Unfortunately, it doesn't go too well, and Will isn't allowed on a talk show. After a protest, he is able to get himself on the show as a guest. That isn't Will's only happy ending: He also gets back together with Kevin and the pair share a kiss. 
Season five of Nashville airs on Thursdays on CMT at 9 p.m. Eastern.