Jeff Bridges gives powerful speech in honor of Standing Rock activists at NBR Awards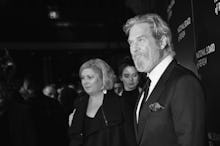 At the National Board of Review Awards on Wednesday, actor Jeff Bridges accepted his best supporting actor award in honor of the activists and water protectors at Standing Rock, Vulture reported.
I also want to thank all those folks at Standing Rock, and all those people supporting them. The movie deals with the consequences of looking out only for your own self-interest, what that costs not just to you, but everybody. And those folks at Standing Rock, they're looking out not only for their own interests, but for all of our interests, making sure we live on a healthy planet. I support them, I applaud them, and I accept this award on their behalf.
Bridges received the award for his work as Texas ranger Marcus Hamilton in the neo-Western film Hell or High Water, in which he tracks down two brothers who are robbing banks that are forcing them to foreclose on their property.
For months, indigenous and environmental activists protested the construction of a 1,172 mile oil pipeline which would run through indigenous land and sacred burial sites. Activists say the pipeline could threaten the water supply used by the Native American community. On Dec. 4, the U.S. Army Corps of Engineers decided to effectively halt construction along the pipeline's planned route by not granting a necessary permit to the company.
This isn't the first time an actor paid tribute to Native American issues at an award show. Bridges' tribute to Standing Rock is similar to Leonardo DiCaprio's acceptance speech at the 2016 Golden Globe Awards. DiCaprio, who won for best actor in a drama for his role in The Revenant, used this moment to stand up for the Native American community and environmental justice. 
Bridges' tribute to Standing Rock is also similar to Marlon Brando's 1973 Oscar win for best actor in The Godfather. When Brando was declared the winner of the Academy Award, Native American activist Sacheen Littlefeather walked up to the stage in traditional clothing and announced that the actor "very regretfully cannot accept this very generous award" due to the film industry's and the country's mistreatment of her community.
"The reasons for this being are the treatment of American Indians today by the film industry – excuse me – and on television in movie reruns, and also with recent happenings at Wounded Knee," Littlefather said on stage.
Several months later, Brando defended his decision to use his award to bring awareness to the plight of indigenous people in an interview with television personality Dick Cavett.
"I felt there was an opportunity," Brando said. "Since the American Indian hasn't been able to have his voice heard anywhere in the history of the United States, I thought it was a marvelous opportunity to voice his opinion to 85 million people. I felt that he had a right to, in view of what Hollywood has done to him."
More than four decades later, Bridges used his celebrity and platform to stand up for the rights of the Native American people.