Kim Burrell Update: Gospel singer's radio show dropped by TSU following homophobic sermon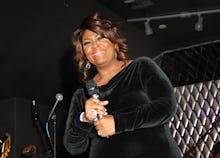 In the latest reaction to Kim Burrell's controversial comments about homosexuality, Bridging the Gap with Kim Burrell will no longer be broadcast at Texas Southern University. 
"The Kim Burrell show is no longer airing as part of KTSU Radio programming," TSU said in a statement.
The radio show, which was described as featuring Burrell's "unique take on music, life and society," debuted on KTSU in June 2016. 
Burrell's sermon 
Burrell, a well-known gospel singer, was recorded leading a sermon at the Love and Liberty Fellowship Church International in Houston, Texas, where she is a pastor. 
In the video, Burrell says, "I came to tell you about sin. That perverted homosexual spirit, and the spirit of delusion and confusion, it has deceived many men and women."
Reactions and cancellations 
The video, which rapidly circulated the internet, inspired a great deal of backlash. Burrell's scheduled appearance on The Ellen DeGeneres Show, where she was was going to perform "I See Victory" from the Hidden Figures soundtrack with Pharrell Williams, was canceled. 
Williams also released a statement regarding hate speech without mentioning Burrell by name. 
"I condemn hate speech of any kind," he wrote. "There is no room in the world for any kind of prejudice. My greatest hope is for inclusion and love for all humanity in 2017 and beyond."
In a Facebook live video, Burrell said she has "no excuses or apologies" for the sermon, adding, "I love you and God loves you. But God hates the sin."