'Overwatch' Update: Mei's Antarctica wall glitch finally addressed, watch out for bans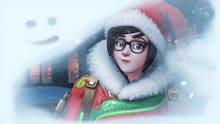 For weeks, Overwatch players have been reporting a glitch that allows Mei to access walled-off areas of the Ecopoint: Antarctica map and attack players through walls. Until now, Blizzard has remained silent on the issue, but it finally issued a response Wednesday on the official Overwatch forums.
Overwatch Update: Mei's ice wall glitch to be patched this week
"This bug was surprisingly tricky for us to track down but we believe we have identified a fix," Overwatch director Jeff Kaplan wrote. "Our hope is to have it fixed sometime [Thursday, Jan. 5] but there is always the chance that our fix could fail. We're currently testing to verify the fix."
Kaplan went on to say that players who exploited this bug, which you can see in the video embedded below, are considered to have cheated. Blizzard will be "taking action" against those who used it.
"Overwatch is a [player versus player] experience so that means exploiting game mechanics like this comes at a cost to those you are competing against," he said. "We take aggressive action against people who abuse game mechanics, hack or cheat. This case is no different.
"Apologies that this bug lingered for as long as it did. Hopefully, this should go away soon (along with those who abused it)."
Overwatch update: Blizzard already laying down the ban hammer on cheaters
According to a post on Reddit from WarmGreycen, it appears Blizzard may already be taking action against those who used the Mei wall glitch.
The post, titled "Mei wall glitch users have now been suspended," appears to show an email the user received from Blizzard's customer service account, informing them of a seven-day suspension.
So, if you were one of the players who decided to use this bug, keep an eye on your inbox for a notice from Blizzard. Also, shame on you.
More Overwatch news, updates, tips and tricks
For more on Overwatch, check out the rest of what Mic has to offer. Here are the latest rumors of a Terry Crews-voiced Overwatch character, hilarious video of a play of the game involving the jump pad on Oasis, a roundup of the best Overwatch plays of the week, our definitive ranking of every Overwatch hero and a giant Overwatch FAQ for beginners,