In Japan, the artificial intelligence uprising is well underway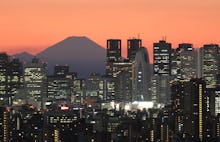 It's the year 2017: Donald Trump will be the 45th president of the United States and, in Japan, robots are replacing human workers. It's not the premise of a dystopian young adult novel — it's real life.
According to the Guardian, Japanese insurance company Fukoku Mutual Life Insurance is cutting costs by laying off 34 employees and replacing them with an artificial intelligence system. Fukoku is banking on the transition to AI technology increasing productivity by as much as 30% because the machines will be able to calculate policyholder payouts at a much faster rate than humans.
Go figure.
If companies like Fukoku find replacing human employees with AI indeed ends up saving time and money, it could spell disaster for workers in Japan. 
In fact, in December 2015, the Nomura Research Institute determined that by 2035 computer systems could replace up to 49% of jobs. Jobs that involve help desks, delivering goods and agricultural work will likely be the first to go, the report surmised.
Meanwhile, in the U.S., self-driving cars continue to be among autonomous technology's largest threats. Uber began testing out self-driving cars in Pittsburgh back in August, while Tesla CEO Elon Musk promised fully autonomous self-driving vehicles by the end of 2017. 
Of course, when a Google self-driving car got into a fender bender in March, it didn't inspire much faith in the technology. 
And, for what it's worth, when restaurants in China tried to hire a bunch of robots to wait tables and prepare food, they sucked at it.
Noriko Arai, a professor at the National Institute of Informatics, agreed there are some limitations to artificial intelligence. "AI is not good at answering the type of questions that require an ability to grasp meanings across a broad spectrum," he told Japanese news agency Kyodo, according to the Guardian.
That artificial intelligence can be flawed — like humans — seems to be our only hope.