Nintendo Switch Release Date: Livestream website reveals new launch and hardware details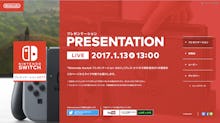 The Nintendo Switch release date, spec and price reveal is nearly upon us and the internet is getting ready. Nintendo has unleashed on the world its official Nintendo Switch landing page for Japan. The page where you'll be able to watch the livestream event can be found here. 
It's beginning to look a lot like Switch-mas.
Nintendo Switch release date: The official product site is up!
The official Nintendo Switch reveal page is up, but it doesn't tell us much we don't already know about the console. We now know that the Nintendo Switch livestream event will be viewable on YouTube and the app Line Live, as well as this official site. The new site also confirms what time we can expect the Nintendo Switch event. Drumroll, please... 
Thursday, Jan. 12, at 11 p.m. EST.
Right after the main event, Nintendo will hold one of their Treehouse livestreams, showcasing some of the games previously confirmed in the video before. It will be viewable on Nintendo's Youtube and Twitch channels.
Nintendo Switch release date, specs, controller names and more
The new site also offers a close-up look at the Nintendo Switch's various parts. We already knew the name for the detachable Joy-Cons, but now we have titles for the Joy-Con Grip and Nintendo Switch Pro Controller as well. The Joy-Con Grip is a base that appears to allow Switch owners to assemble Joy-Con controllers like Voltron into one cohesive, controller-shaped unit. The Nintendo Switch Pro Controller looks to be an updated version of the Wii U Pro Controller.
Nintendo Switch release date: Where are the Americas and European Switch websites?
We could see official Nintendo Switch sites for other countries show up soon. With the console merely a week away from its official coming out party and two months from release, the Nintendo Switch is running out of time to hide from the spotlight. We'll be bringing you details as they come.
More Nintendo Switch news and updates
Check out more Nintendo Switch coverage, including Mic's reports on whether the console will be backwards-compatible, if more characters are coming to Smash Bros., what current games we want high-definition remakes of and information about the upcoming Nintendo Switch event.
Jan. 5, 2017, 3:08 p.m.: This story has been updated.